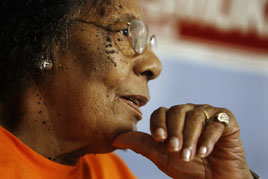 Dallas will bid farewell to one of its legendary restaurateurs this week, SuVern "Vern" Freeman Simmons of Vern's Place. Ms. Simmons hung up her apron this past week on December 2, 2013 at the age of 84. A wake will be held on Friday, December 13, 2013 at 8:30 p.m. at Golden Gate Funeral Home located at 4155 South R.L. Thornton Freeway, Dallas, Texas 75224. The funeral service will be held on Saturday, December 14, 2013 at 12 p.m. at Inspiring Body of Christ (IBOC) located at 7710 South Westmoreland Road, Dallas, Texas 75237. Golden Gate Funeral Home is in charge of arrangements, (214) 941-7332.
Born and raised in Hugo, Oklahoma, Vern moved to Dallas as a young woman with seven children, (she later had another three), and found housing in the West Dallas Projects. In praying for an answer to her need to for work and a way to take care of her small children, she opened her first restaurant. She not only fed her own children but tens of thousands of other folks as well. While it was rough in the beginning, Vern's cooking skills and motherly ways served her well. Customers came, ate and left happy. Life was hard, but good.
In 1967, Vern was looking for a new location for her restaurant and fell in love with the little building at the corner of Exposition and Main streets east of downtown Dallas in the Deep Ellum neighborhood. The rent was right and with a lot of hard work and the help of friends, Vern cleaned up the building that had been vacant for years and soon opened Vern's Place. She cooked the meals, ran the register, washed the dishes, cleaned the tables and made friends with the customers, all while raising her 10 children. Vern worked hard to make a success of Vern's Place.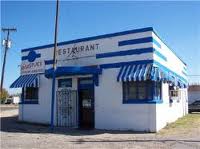 The Vern's Place sign read, "specializing in good food" and diners came to the little blue and white building in groves and soon the restaurant was the talk of Dallas. Not only was the food great, the servings were huge. There was always a line at the front door when she opened for lunch and diners shared tables as they ate their food. Vern never advertised and never needed to. Her marketing plan consisted of great food, a smile and a handshake. The quality of the food spoke for itself. Her trademarked peach cobbler probably pulled as many people as the stews, fried chicken, short ribs, chicken and dumplings, collard greens, sweet potatoes, smothered cornbread and other great dishes. For 42 years that marketing plan was enough for success.
Vern always considered her restaurant as a means to take care of her family. But the restaurant also served as her ministry in the community. She made sure the homeless had food to eat and the disenfranchised who may have been out of work. She respected all people and wanted to make sure they had something to eat.
In November 2007, Vern retired for her cooking and restaurant when faced with her landlord putting the property up for sale. She scrambled to raise enough money to buy the property which was priced at almost four times the appraised value. No bank would loan her the money. At 78 years of age, Vern turned the operation over to her granddaughter, Gina Pier, who moved the location to Elm Street. After facing many difficulties with the move, Vern's Place officially closed for good in July 2009.
When interviewed upon her retirement, Vern reflected on how she was proud of the fact that she raised her family without ever having to borrow money or go on welfare. She made sure all of her children were educated. "We had it rough, but with the help of the Lord, we made it. Sometimes business was good and sometimes things were slow. Everybody loved me because I didn't care what color they were or how old they were," Vern stated. "You must treat people like you want to be treated. If the food is not right to them, take it back and prepare it the way they want it."
SuVern "Vern" Freeman Simmons was married for over 30 years to Robert Simmons, who preceded her in death. She was a longstanding and faithful member at God's Holy Temple where Rev. Curtis Scott, Sr. was the founding pastor and Rev. Pearson is pastor.
For more information, please call dianne gibson at (214) 335-9915 or email misscommunity@hotmail.com