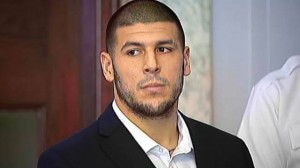 FALL RIVER, Mass. (MyFoxBoston.com) — Aaron Hernandez was involved in a fight with another inmate inside the Bristol County jail.
According to TMZ Sports, the former Patriot attacked another inmate Tuesday. Hernandez was allowed to take a walk down a hallway where he came to blows with another inmate who was reportedly verbally harassing him, TMZ Sports said. Hernandez allegedly beat the other inmate badly.
The Bristol County DA's office did not comment on the incident.
Read more: http://www.myfoxboston.com/story/24821341/hernandez-involved-in-jail-fight#ixzz2uOYCpneT