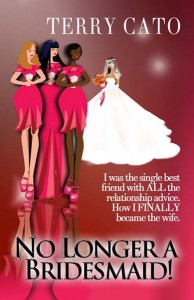 SAN FRANCISCO (BlackNews.com) — For years, Terry Cato was always the bridesmaid, but never the bride. In this poignant memoir, this first-time author tells the story of her seven years of preparation, finally becoming a Lady-in-Waiting (engaged) and then a bride. During her years of being single, Terry observed seven personality types — her own included — that can get in the way of progress toward the altar.
In No Longer a Bridesmaid!, readers will learn:
The seven types of single women and how they could be harming their chances of getting married

Why dating is just practicing for divorce

How to deal with and heal old emotional wounds

The seven steps the author used to successfully prepare for her husband

How to live a happy, celibate life as you prepare for your husband and more.
The publisher boasts this book is for every single Christian lady who desires to be the Lady-In-Waiting and is willing to prepare for their God-ordained husband. The title is available for purchase at Barnes & Noble, Books-a-million, Amazon.com, and Christianbook.com.