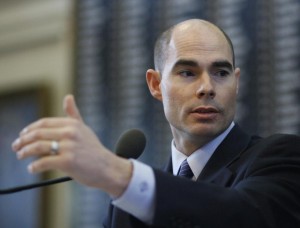 A Texas Republican Dennis Bonnen recently used the racial slur "coonass" when referring to children displaced after Hurricane Katrina. Bonnen is currently the Speaker Pro Tempore of the House. His position calls for him to stand in when the Speaker of the House is absent.  
 Dictionary.com defines "coonass" as a "vulgar slang term" that is "used with disparaging intent and is perceived as insulting.  Many linguists believe the term can be attributed to the racial slur "coon," used in reference to African-Americans. Other linguists believe that the word derives the French word "cunnus," a vulgar term often used to refer to a French prostitute.
According to Think Progress reports:
"During a discussion on what resources would be needed in schools to accommodate migrant children, Bonnen, Speaker Pro Tempore of the House, recalled Texas' experience educating children who moved from Louisiana. "I want to be clear," he said. "A Katrina child is far different. We can make jokes and pick on Louisiana and its fun and all that, but it's a hell of a lot different bringing a kid over from Louisiana than a child who's just made a treacherous journey from South America. … We had to have a teacher who could do coonass and English, but here we have to do Spanish and English, maybe, and there's a higher marker."
Although, Bonnen's comments were directed at victims of Hurricane Katrina, he has a history of proposing intolerant bills on immigration. He has filed to make the records of "illegal immigrants" available to the public and to make English the official language of Texas.
Watch Bonnen's comments: