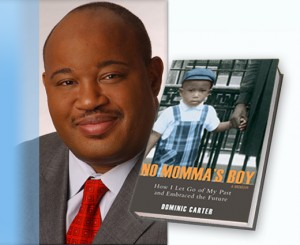 Dominic Carter, the author of No Mommas Boy is scheduled to speak at Bear Creek Community Church in Irving this Sunday morning. A TV anchor in the New York area Carter has enjoyed a remarkable career, but internally he struggled with recovering from an abusive childhood at the hands of a mentally ill mother.
During the 11 a.m. worship experience Carter will share his inspiring story of rising from a childhood that included sexual and physical abuse to a meaningful career. Highlights of his career include attending social events at the White House and interviewing the late Nelson Mandela.
It is his desire to give a voice to others who have suffered in silence over the years. Carter wants others to know they can rise above what has happened to them and enjoy happy careers. Books will be available for sale and autographing.
For more information about the book visit 
http://www.nomommasboy.com/
. Bear Creek is located at 2700 Finley Road. Irving City Councilman Dennis Webb, Sr., is the pastor.