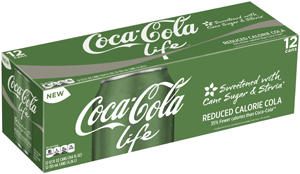 Following an initial summer rollout in The Fresh Market locations across the Southeast,Coca-Cola Life is now available in stores and retailers nationwide.
At 60 calories per 8-oz. glass bottle, The Coca-Cola Company's first reduced-calorie sparkling beverage sweetened with cane sugar and stevia leaf extract has 35 percent fewer calories than other leading colas. 
Consumers will have the chance to discover the new beverage through more than 4,000 sampling opportunities nationwide, and the brand's distinctive green label and visual identity will stand out in store displays and the Coca-Cola Digital Network of electronic billboards.
"We ultimately want to be leaders in this emerging segment, and Coca-Cola Life is our first effort to make this a reality," explains Andy McMillin, vice president, Coca-Cola brands,Coca-Cola North America. "For consumers looking for a reduced-calorie soft drink sweetened with cane sugar and stevia leaf extract, this is a great-tasting option."
In North America, Coca-Cola offers more than 750 beverages including more than 200 low- or no- calorie options. Coca-Cola Life complements this portfolio and is one of more than 45 beverages in The Coca-Cola Company's global portfolio currently sweetened in whole or in part with stevia leaf extract (others include glaceau vitaminwater zero, Honest Tea and Odwalla). The sweetener is made by extracting and purifying the naturally sweet components from the leaf of the stevia plant. Together with cane sugar, stevia leaf extract gives Coca-ColaLife its delicious sweetness.
"We're excited to debut Coca-Cola Life in our flagship U.S. market as we continue to innovate and expand our portfolio to meet consumers' evolving needs and preferences," McMillin noted. "Coca-Cola Life is right at home in our broader portfolio and is positioned to provide consumers with simple yet sweet moments of refreshing uplift throughout their day."