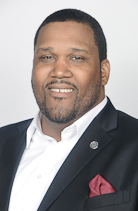 Palm Beach, Fla. – Jeremiah Quarles, Chief Executive Officer of the Desoto Economic Development Corporation has been selected as a winner in the economic development profession's 40 Under 40 awards, the only award of its kind recognizing young talent in the economic development profession.
A five-member selection committee from across the U.S chose the winners from a pool of more than 157 candidates based on their exceptional contributions to the economic development industry. The award's program was managed by Development Counsellors International (DCI), a New York-based firm that specializes in economic development marketing.
"It's no surprise that Jeremiah was selected for this prestigious national award," said Dr. Tarron Richardson, City Manager. "This recognition also serves as a direct reflection of the value and quality of services that the DEDC and its Board provides to our community. We're delighted to have Jeremiah's experience coupled with his intricate understanding of the North Texas region here in DeSoto. The future development of this city is that much brighter."
Jeremiah Quarles, has served as the Chief Executive Officer of the DeSoto Economic Development Corporation (DEDC) since August 2013 and has been in the economic development profession for nearly a decade. Prior to accepting the position with the DEDC, Quarles served as the Executive Director of Economic Development for the City of Glenn Heights, Texas and as a Project Manager for downtown business attraction and retention for the City of Dallas Office of Economic Development.
Since accepting the position in DeSoto, Quarles has focused the organization's efforts on further attracting medical, aviation and advanced manufacturing industries; raising brand awareness of DeSoto throughout the site selector and corporate business community; and developing collaborative strategies for sustainable economic growth. During his first 14 months, Quarles oversaw substantial economic development projects totaling over $115 million in new capital investment and created or retained over 350 full-time jobs. In addition, he has helped to re-energize the establishment of the Revolving Loan Fund Program (RLF) to assist small businesses with overall project or startup costs.
Quarles is a finance graduate of the Eli Broad College of Business at Michigan State University and a 2017 MBA candidate of the Mendoza College of Business at the University of Notre Dame. He is also the Immediate Past Chairman of the Dallas Regional Chambers' economic development arm – the DFW Marketing Allies Group.  Other accolades include Dallas Business Journal's Top Minority Business Leader and  40 Under Forty, 'Outstanding Dallasite' by the Dallas Junior Chamber of Commerce and Apex Society's Power 30 Under 30.
DCI's 40 Under 40 award was designed to discover the economic development profession's rising stars.  "The people chosen by the selection committee represent a bright future for the economic development world," said Andy Levine, president of DCI. "They are a new breed of results-driven place makers. We're very pleased to see Jeremiah Quarles among the winners."  DCI officially announced the winners on January 26, 2015 at an awards reception during the International Economic Development Council Leadership (IEDC) Summit in Palm Beach and will feature an in-depth profile of each on its website throughout 2015.
For more information on DCI's 40 Under 40 winners, visit www.aboutdci.com/40under40.