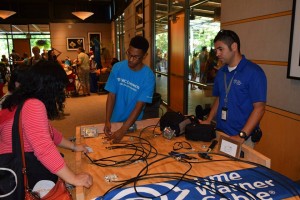 It is Time Warner Cable Day at the Dallas Arboretum on Aug. 15. From 9 a.m. to 2 p.m. in the air-conditioned Rosine Hall, paid garden guests will have the opportunity to participate in hands-on STEM (science, technology, engineering and math) activities designed to stretch their imagination.
As a part of its Connect a Million Minds Initiative (CAMM), Time Warner Cable partners with the Dallas Arboretum to provide August Dollar Days to the general public and to support after-school STEM activities as it applies to science and nature.
Time Warner Cable, and its partners the Dallas Arboretum, the Dallas Zoo and Girl Scouts will provide several cool, hands on STEM stations. Visitors will have the opportunity to:
Create illusions of motion by making thaumatropes and conduct experiments to understand light absorption, reflection and transmission
Identify flowers and leaves with leaf rubbing experiments
Practice using their observation skills to match biofacts to the correct animal, and much more
In addition, cool treats and a face painter will be available, which are always a 'hit' with the younger visitors.