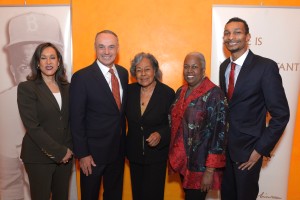 NEW YORK — As the baseball world prepares for Jackie Robinson Day, the 13th annual MLB celebration of Jackie Robinson's enduring legacy, Major League Baseball (MLB) and the Jackie Robinson Foundation (JRF) announced today that MLB has increased its financial commitment to the Foundation and that the two organizations will expand their programmatic partnership beginning this year. MLB will greatly enhance its longstanding philanthropic support by funding 30 four-year JRF scholarships – one for each of the 30 MLB Clubs and by contributing $1 million to the Foundation's Jackie Robinson Museum project.  Additionally, MLB and JRF will engage JRF Scholars to mentor young people in MLB's youth and community partnership programs, including Reviving Baseball in Inner Cities (RBI), MLB Urban Youth Academies and MLB-supported Boys & Girls Clubs of America programs.  JRF Scholars will mentor participants in these various youth programs, encouraging their young mentees to embrace educational opportunities and joining them in extra-curricular activities, such as attending MLB games with the League's support.
Commissioner of Baseball Robert D. Manfred, Jr. said: "Jackie Robinson inspired change throughout the National Pastime and society.  Major League Baseball and its Clubs have long been proud to support the Jackie Robinson Foundation, recognizing the Foundation's important role in perpetuating Jackie's legacy by advancing education.  MLB's expanded commitment reflects a shared desire to inspire and broaden opportunities for young people in our communities to truly reflect Jackie's vision for our American society and positively impact future generations."
"We are extremely grateful to Major League Baseball for its ongoing, very generous support of our mission to address the achievement gap in education," saidDella Britton Baeza, president and CEO of the Jackie Robinson Foundation. "This increased support from MLB and Commissioner Manfred for the Foundation's scholarship program and to help bring the Jackie Robinson Museum to fruition provides a tremendous boost to our efforts. We are thrilled also about the Commissioner's commitment to expand our programmatic partnership with MLB that involves both job opportunities and community service engagement for JRF Scholars, not to mention the benefits to the greater community of young people."
Historically, Major League Baseball and its clubs have contributed more than $15 million to the Jackie Robinson Foundation for its scholarship program and for the Jackie Robinson Museum. The Los Angeles Dodgers, the New York Mets and the New York Yankees organizations have been particularly generous to the Foundation, donating millions of dollars and partnering with JRF around various initiatives. Other Major League organizations that provide funding and engage with the Jackie Robinson Foundation are the Baltimore Orioles, Chicago White Sox, Philadelphia Phillies, Boston Red Sox, and the San Francisco Giants, as well as a roster of current and former MLB players, including Derek Jeter and the Turn 2 Foundation, which has endowed a scholarship in perpetuity at the Jackie Robinson Foundation.