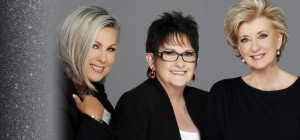 Linda McMahon, co-founder and former CEO of World Wrestling Entertainment (WWE), has partnered with Stacey Schieffelin, founder and president of ybf Beauty; and social media strategist Debbie Saviano to launch a new company aimed at promoting leadership opportunities for women. The women will host their first Women's Leadership LIVE event in Irving on May 19 – 22.  The weekend seminar will be held at the Omni Mandalay Hotel.
Through workshops, panels, and access to speakers, participants will learn from experts the real strategies that led to their success. The program will give women the confidence to pursue whatever goals they have as well as take part in opportunities for ongoing mentorship. There are many organizations that support women in business, but what sets Women's Leadership LIVE apart is the community and the follow-up that emerge following the event. Research has shown that women who had mentors usually have higher rates of success than those who didn't.
Click here for more information about the Women's Leadership LIVE in Irving TX.