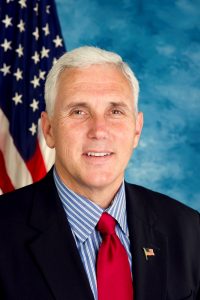 Gov. Mike Pence is dropping his re-election bid in Indiana to become Donald Trump's running mate.
IndyStar has confirmed that Trump plans to announce Pence as his selection for vice president, ending a weeks-long vice presidential casting callduring which Trump vetted a handful of high-profile Republicans.
Trump's national campaign spokeswoman, Hope Hicks, insisted in an email Thursday afternoon that "a decision has not been made."
It wasn't clear if those comments, echoed by others in the Trump campaign, were simply an effort to maintain a sense of surprise for the planned announcement Friday at 11 a.m. in Manhattan. But sources told some national news outlets that anything is possible given Trump's trademark unpredictability.
Those outlets, including the New York Times and the Wall Street Journal, reported that Trump has told fellow Republicans that he plans to introduce Pence as his pick.
ABC News reported Trump has asked Pence to be his running mate and the Indiana governor accepted, citing a source with direct knowledge.
This evening, Pence was seen arriving on a plane in Teterboro, N.J., near Manhattan. Earlier in the day, Pence gubernatorial campaign spokesman Marc Lotter was spotted on a plane headed to New York City.
Trump's long-awaited decision upends the political landscape in Indiana and at least partially remakes the Trump campaign in Pence's image.
Visit the IndyStar for more information.