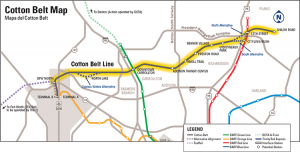 Now that the DART Board has approved a financial plan that includes funding for the expedited construction of the Cotton Belt Rail Line, cities through which the line passes and DART have begun the work needed to meet the proposed 2022 completion date. The City Council was updated Monday regarding Richardson's efforts as well as DART's.
Richardson City planners have already begun studying several design components of the line in order to give timely input to DART on the City's preferences. Elements being studied include:
Area rail station platforms (UT Dallas, CityLine/Bush) and how the Cotton Belt Line will interface with the Red Line

US 75 rail bridge

West Renner Road pedestrian bridge, east of Synergy Park Boulevard

Trail-by-Rail plans/interfaces

Corridor aesthetic design elements

Types of crossings at streets including Rutford Avenue, Custer Parkway and Alma Road
DART Board representative and former Richardson Mayor Gary Slagel was present at Monday's work session to give remarks from DART. He reported that DART is conducting a parallel study along with Richardson's and that DART staff will be working with neighborhoods and cities to bring information to the DART Board.