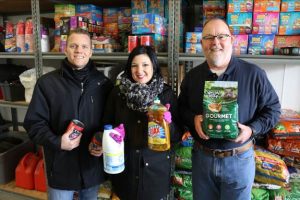 The Carrollton Animal Services & Adoption Center (CAS) received nearly 10 bags of kitty litter, 10 bags of cat food, 10 bags of dog food, canned food items, cleaning supplies, and a cash donation of $140 from the Jeff Van Matre Insurance Agency located in Carrollton on Rosemeade Parkway.
The agency conducts a quarterly referral program, and the animals in Carrollton's care were the Q4 beneficiaries. Angie and Jeff Van Matre presented the donation to CAS staff on Jan. 6. All the items donated from October through December 2016 go to the animals at the Center to encourage future adoptions.
"We wanted to find a way to reward clients and contribute to the community," said Angie. "As a huge animal lover, I've always been very fond of CAS. [The Center] is not the typical animal shelter. I have seen dogs and cats on the adoption page for several months, but the team at CAS doesn't give up until they find loving homes for all of the animals."
Angie went on to say she thought CAS would be a perfect fit for the relatively new referral program benefitting local organizations. For each client referral, the agency donates $5 toward the "community focus of the quarter".
"We received supplies from our animal-loving friends, family, and clients," Angie said. "I find that most people have a soft spot for animals and I consider this quarter a success. As our program matures, we look forward to being able to help even more!"
Angie said due to the great experience of working with CAS last quarter, the agency plans to include the Carrollton Adoption Center located at 2247 Sandy Lake Road in the program each year.
CAS staff says the Center can always use donations and volunteers. Carl Shooter, Animal Services Manager, said the Van Matre donation will provide significant support to the animals that come in as strays due to the cold weather this time of year as well as holiday gifts that didn't go as planned.
This isn't the only avenue the Van Matres use to show their dedication to the Carrollton community. Jeff was first appointed to the City's volunteer organization the Neighborhood Advisory Commission (NAC) in 2013 and was reappointed in 2015. In 2016 he was elected Vice-Chair.
As a member of NAC, Jeff reviews the annual CDBG reports to HUD, selects annual Neighborhood Enhancement Matching Grant applications, and mentors neighborhoods and leaders in Carrollton in addition to coordinating efforts like Neighborhood Networking Workshops, Annual Citizens' Evening, and People Helping People projects.
"Jeff has been a pleasure to work with on NAC right from the start. Commissioners work hard and he's always been eager to take on extra assignments and work on committees and projects outside the regular NAC meetings," said Environmental Services Director Scott Hudson.
"He's an excellent communicator, always does a great job promoting Neighborhood projects at the annual Citizens' Evening event," said Tanya Ferencak, Senior Community Development Specialist. "We always have the most people respond to us after the event when Jeff is at the Neighborhood Partnership table promoting the NAC."
The city as a whole is fortunate to have community-minded citizens like the Van Matres throughout several of its programs and offerings. Residents who become involved with their neighborhoods, boards, commissions, and volunteering opportunities bring immeasurable value to Carrollton.
For more information on how to donate to or volunteer with Carrollton Animal Services, visit cityofcarrollton.com/asdonations. For more information on getting involved with Carrollton's NAC, visit cityofcarrollton.com/impact.