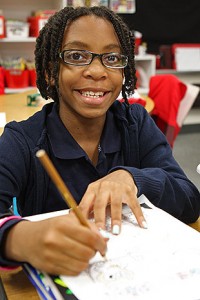 The 2017-18 school year will bring with it new school hours for Garland ISD. The district's Board of Trustees approved next year's calendar, including extended days for all campus levels, at its Feb. 13 meeting. The new start and end times meet a change in legislation regarding required minutes of instruction per year.
Students will start 2017-18 on Aug. 28 and end their classes June 8. Winter Break will also be observed Dec. 18-Jan. 1, and Spring Break will take place March 12-16. View the complete calendar, school hours and FAQs on the GISD website.
With the 85th session of the Texas Legislature underway, Trustees approved five Legislative Priorities. They are calling for adequate, equitable school district funding; increased support for student performance; a clear, growth-focused accountability system; a strong, viable Texas Teacher Retirement System; and flexibility for school districts. The board will now express these priorities during meetings with legislators in Austin.
Trustees took action on bond items discussed at a special workshop Feb. 6. They voted to keep original plans regarding renovations and new rooms for fine arts programs at all secondary campuses. The board also approved moving forward with elementary campuses in Phase 2, and transferring project savings from Naaman Forest High School to the Gilbreath-Reed Career and Technical Center to assist with purchasing furniture and priority 1 materials.
New administrative appointments included naming Atticus Wisener as the Director of Secondary Human Resources. He previously served as principal at Garland High School. Christopher Nester will also join GISD as a new Area Director. Carol Goff will transition from her current position as Assistant Principal at Hudson Middle School to become the new principal at Bussey Middle School. Angelee Morales was also named the new principal at Couch Elementary School. She previously served as Assistant Principal at Liberty Grove Elementary School.
Trustees recognized a Sachse High School junior and four campuses with Evidence of Excellence awards. With 18 offers to play football in college, Jalen Mayden is ranked as the ninth dual-threat quarterback in the nation according to the industry-generated 247Sports Composite. He led the SHS Mustangs to an undefeated season and second-round playoff run. He was also invited to play in the North American Championship game and named a finalist for the Under Armour Quarterback of the Year award. Mayden's actions off the field are getting noticed as well. He runs a charity that helps Rowlett residents in need.
In the fall, the Texas Education Agency announced 2015-16 Title I Reward Schools based on STAAR results from last year. This designation was awarded to just 300 campuses statewide, including Hillside and Kimberlin Academies for Excellence, as well as Pearson and Roach elementary schools. Reward School status can be earned in two categories. High Performing campuses are those with distinctions in math and science, while high progress campuses rank in the top 25 percent of annual improvement or closing achievement gaps based on system safeguards. All four GISD winners received both distinctions.
Additional board meeting information can be found in the online agenda and archived video, chaptered by items.