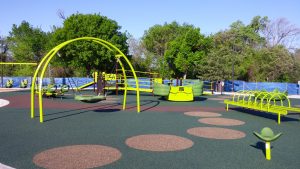 What was once the site of Plano's beloved Jack Carter Pool is now home to the city's first all-abilities playground at the new Jack Carter Park.  Plano citizens and members of the media are invited to a special dedication ceremony on April 24 at 1:30 p.m. at the park with Mayor Harry LaRosiliere, Plano Parks and Recreation staff and the Plano Rotary Club.
Located at 2601 Maumelle Drive near Schimelpfenig Middle School, the new playground within the park serves children with disabilities and includes experiences that involve movement and climbing as well as a mix of tactile, visual and auditory features. The Plano Rotary Club donated $25,000 to the City of Plano Parks and Recreation Department last year to help fund the $1.9 million project.  The club presented half of its contribution in June 2016 to mark the club's 70th anniversary and will present the other half at the upcoming dedication ceremony.
"The Rotary Club donation allowed us to add more funding to the playground, which enabled us to take it beyond a typical neighborhood park playground. The park provides unique equipment that is specifically designed for children with special needs," said Robin Reeves, director of the Plano Parks and Recreation Department. "Without the additional funding, it would have been difficult for us to provide this type of equipment within the project budget."
The new playground is designed for children of all abilities to play, learn and grow together and offers a variety of sensory experiences for healthy development. The 2.61-acre park includes ample parking, trail connections, shelters and facilities that include accessible restrooms for all.
The renovation project included converting the outdoor pool into a pond with a fountain, overlook plaza and trellis. The pool, which was built in 1981, was closed in 2014 following mechanical and design deficiencies.
Complemented by a covered pavilion, water fountains and picnic tables, this type of project is a very significant piece to any community for its ability to foster diversity and inclusiveness, which is a huge principle of the city of Plano. "To me, this park represents unity by making all feel welcome with or without a disability," said Dianne Dillon, adapted recreation supervisor for Plano Parks and Recreation. "I hope the community will feel and see the connection of having this all-inclusive park like I did when I went out and saw the wonderful equipment that can be used by anyone."