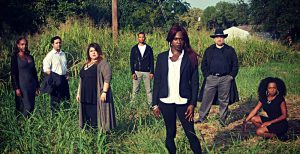 By Joe Farkus, NDG Contributing Writer
"Say their names."
Addressing an issue that has been widely ignored by the general public, In the Tall Grass – a verbatim play constructed from interviews conducted by playwright, Paul Kalburgi, with those directly involved with the events depicted in the production – attempts to illustrate the despairing reality of the violence and neglect transgender women of color face throughout their lives.
The play focuses on the murder of Shade Schuler – a young black trans woman whose body was dumped in a field close to Dallas' Medical District. Its use of verbatim dialogue leaves this production unpolished and provocative – leaving no uncomfortable stone unturned.
Bold performances by Mieko Hicks as trans woman and fountain of wisdom; Letitia, and Lamar Roheem Staton as Schuler's heartbroken and outraged brother; Josh, bring life to the weighted emotional dialogue.
In the Tall Grass dives headfirst into the precarious world many trans women of color find themselves in – often forced into prostitution and dangerous situations that generally put them at risk of violence and even death with a law enforcement community that all too often views them with suspicion rather than compassion.
The play follows the journey of Doug – a character seemingly based on Kalburgi himself – as he speaks with Schuler's friends, family and other trans activists as they depict a world so many here in Dallas and around the country are completely ignorant of.
As with any production rooted in such an emotionally potent topic, the temptation to veer into sentimentality is evident but generally avoided. While the first act almost exclusively focuses on Schuler's murder and the Dallas trans community's frustration with lagging police response, the second act jumps between Schuler's story and the effort by trans woman Tracee McDaniel to be successfully appointed to the Atlanta Citizen Review Board. While the intention for this is apparent (trying to show progress and hope exist in the fight for trans visibility), Tall Grass would have been better served had it relied on Schuler's story solely.
Regardless, In the Tall Grass is not only well written, produced, and performed – it is much needed. If Kalburgi's intention is to bring attention and focus to the lives so often casually discarded simply because they are different, he succeeds.
The Bishop Arts Theatre production is on stage until Sept. 24. Tickets are $18 in advance and $22 at the door.  Parents, please note this play is for mature audiences only.