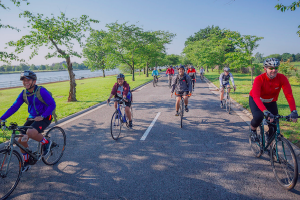 The beginning of November provides residents of DFW numerous opportunities for participating in a variety of fun and charitable activities. From Carrollton to Richardson, there is something for everyone – from health fairs to golf tournaments.
Carrollton
22Kill is hosting the 2017 Texas Wounded Vet Run on Saturday, Nov. 4 beginning at Longhorn Harley Davidson at 2830 I-20 Frontage Rd, Grand Prairie at 10 a.m. and ending at Maverick Harley-Davidson at 1845 North Interstate 35E, Carrollton at 2 p.m. There will be a party thrown at the Maverick location upon the conclusion of the Vet Run. The motorcycle ride will raise funds for critically wounded North Texas veterans. For more information and tickets, go here.
Dallas
The Inaugural Dallas Bike Ride will be held on Saturday, Nov. 4 at 8 a.m. at Dallas City Hall Plaza at 1500 Marilla St, Dallas. The event is the city's only closed-road, car-free noncompetitive bike ride and benefits the non-profits BikeTexas and Incarnation House. The course will cross the Trinity River and send riders through nine iconic Dallas neighborhoods. People of all biking abilities are encouraged to participate in this inaugural event. The ride will conclude back at Dallas City Hall with the Methodist Dallas Finish Festival beginning at 9:30 a.m. Online registration and more information on the ride can be found here.
The Veteran's Affairs (VA) North Texas Health Care System is hosting its 28th Annual Community Health Fair on Saturday, Nov. 4 at the Dallas VA Medical Center at 4500 S. Lancaster Rd, Dallas. The VA North Texas Health Care System serves more than 133,000 patients each year and is looking forward to further serve the community through this annual fair. The event will be held in the Atrium from 10 a.m. to 2 p.m. where free services such as: blood pressure checks, family dentistry information, and an anti-bullying workshop will be available. For more information contact 214-857-2418.
The Dallas Police Department is hosting their final Chief on the Beat: Crime Prevention Safety & Health Fair of the year on Saturday, Nov. 4 from 10 a.m. to 2 p.m. at the Grauwyler Recreation Center at 7780 Harry Hines Boulevard, Dallas. In honor of the holiday season, the event will feature food, prizes, and free turkey giveaway in time for Thanksgiving. Medical services and safety information for attendees of all ages will also be available. More information can be found by calling 214-671-4045.
Dragonflymind is hosting Work Hard & Play Harder: Practical Strategies to Sustain Success on Tuesday, Nov. 7 from 6 p.m. to 9 p.m. at Brookhaven Country Club at 3333 Golfing Green Dr., Dallas. The event will feature entrepreneur Wes Melcher and host Dean Lindsay along with surprise guest appearances for the event's panel. It will provide participants to network with the community's leading entrepreneurs and philanthropists. For more information and tickets, go here.
Dallas-based literary nonprofit WordSpace is hosting its New Dialogues with Lonnie Holley on Thursday, Nov 9 at 7:30 p.m. at the South Dallas Cultural Center at 3400 S Fitzhugh Ave, Dallas. Holley is musician known for his outsider status and improvisational creativity. The event is free and open to the public. More information on the event can be found here.
Garland
Resurrected Designs will be hosting The Urban Flea on Saturday, Nov. 11 from 9 a.m. to 4 p.m. at 150 N 6th St, Garland. Organized by a group of self-described "irreverent" artists, this outdoor market will feature vintage and homemade vendors, live music, found objects, rescued and repurposed items, hand crafted wares, and food trucks. More information on the event can be found here.
 McKinney
Rebuilding Together North Texas is hosting the 7th Annual Homes 4 Heroes Golf Tournament on Monday, Nov. 13 at 11 a.m. at Stonebridge Ranch Country Club at 5901 Glen Oaks Drive, McKinney. The event is organized to honor and support America's veterans and first responders. Attendees are encouraged to bring custom signs that display names, branches of service, and logos of individuals they wish to honor. Tickets can be purchased here. For more information on the tournament, contact executivedirector@rebuildingdallas.org.
Plano
Volunteer North Dallas is hosting Feed the City: Making Meals for the Homeless on Saturday, Nov. 4 from 8:30 a.m. to 11 a.m. at Gordon Biersch at 7401 Lone Star Dr., Ste. B120, Plano. Attendees are encouraged to bring the whole family and ingredients for the sandwiches that will be made at the event. The goal for the event is to have enough sandwiches made to feed 5,000-10,000 people. For information on what ingredients are being requested, go here.
Richardson
The Meier Clinics Foundation is hosting A Celebration of Hope for Mental Health on Thursday, Nov. 9 from 6:30 p.m. to 9 p.m. at the Canyon Creek Country Club at 625 West Lookout Drive, Richardson. This silent auction event will help support the Meier Clinics foundation charitable-care services and will provide participants the opportunity to bid on a variety of items during an evening of live music, entertainment, food and beverages, and opportunities to win raffle drawings. Registration for the event is free and can done here.
University Park
Park Cities/Central Dallas Democrats are hosting their November Meeting on Saturday, Nov. 4 from 10:30 a.m. to 12 p.m. at the University Park Public Library at 8383 Preston Center Plaza, Suit 200, University Park. The event will feature speaker Rafael Ferreira, the Community Outreach Specialist for the City of Dallas's Office of Emergency Management, who will provide information on how citizens can be best prepared for a variety of emergency situations. More information can be found here.
To submit events and announcements, send an email to editor@northdallasgazette.com with headline Community Briefs.