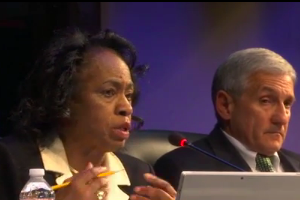 By Joe Farkus, NDG Contributing Writer
All of the Dallas ISD Trustees voted unanimously to approve a contract that will guarantee the district's involvement in a project to house unsheltered and homeless students in the district in the soon-to-be renovated Fannie C. Harris Elementary School building, which closed more than a decade ago at their Oct. 26 board meeting. The project is the result of non-profit After8toEducate partnering with organizations City Square and Promise House.
The renovated building owned by Dallas ISD will house up to 35 students at a time. Those 35 must between the ages of 14 – 21. A drop-in shelter will also be available at the location for students to receive more immediate assistance and care. All volunteers at the shelters will be required to pass federal and state background checks before serving.
"This is truly, in my opinion, a model example for public-private partnership," said Trustee Dustin Marshall. "This is what leadership looks like."
The contract commits the district to the project for seven years with two 5-year renewal options, totaling a potential 17-year commitment. The district is only expected to pay roughly $135,000 a year for operational costs, with After8toEducate and its partners raising funding from private donations to cover the rest. Despite concerns over the original wording of the contract presented to the board during their Oct. 12 briefing, Trustee Joyce Foreman – along with the rest of the board – supported the effort.
"This is going to be great for our kids," said Trustee Board President Dan Micciche. "It's something that is really very much needed."
The building is located in District 9, a district represented by Trustee Bernadette Nutall who spearheaded the effort to address Dallas's homeless student problem. The total cost to renovate the unused building is estimated to be roughly $2 million – the same cost of maintaining the program each year.
"We, today, put children first," said Trustee Nutall. "We can talk all day and have every poverty report and every homeless report, but until we start putting actions to our words – they're just words."
With the contract now approved, a community forum open to public comment has been scheduled for Monday, Nov. 13.