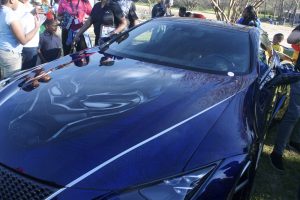 By Jazlyn Mercer, NDG Staff Writer
The students of the Oak Cliff Boys and Girl Club received an unexpected surprise Tuesday during their After School Club. Lexus representatives from the Toyota headquarters in Plano stopped by and gave each student a copy of a special edition Black Panther comic book. They also spent time speaking about the importance of education before sharing an even bigger surprise.
"If you get a degree, everything opens up for you," Michael Moore, the Senior Manager of Lexus Product Marketing shared with the students, encouraging them to pursue higher education and the impact of science and technology studies.
Moore presented the students with a copy of one of the eight special editions of the Marvel and Lexus Presents Black Panther: Soul of a Machine comic book and discussed the partnership between Lexus and Marvel in designing the car featured in the record-breaking film. The students were surprised by the comic book handouts, but still had no idea of the true shock that was waiting. The kids lined up at the door with bright smiles at the news something special was outside.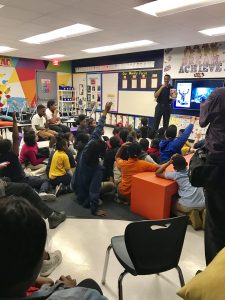 When they arrived outside the Black Panther-inspired LC Concept Coupe was unveiled, and the students were completely shocked. Older students pulled out their phones to take selfies and Snapchats with the vehicle. Claws poked through the side mirrors, the Black Panther mask was painted on the hood and cases of vibranium were displayed on the back of the car.
"They really surprised me with the Black Panther [car], that really surprised me," said a 13-year-old male club student.
Two students from the Boys and Girls Club said they wished the vehicle could stay forever, and another said he wishes he could drive it. The students gathered together to take pictures as a group with the car, and to thank Lexus for showcasing it to them.
Audrey Lundy, a Communication Analyst for Lexus at the Toyota headquarters in Plano was part of the team which helped to coordinate the appearance with the limited edition car for the Oak Cliff students on Tuesday and the Boys & Girls Club in Collin County for the Frisco students on Wednesday.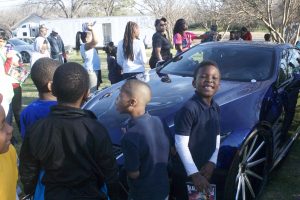 "We just really wanted to share the excitement with our community, particularly with the youth because we know how excited they have been with the film Black Panther," Lundy said.
CiAndria Jefferson, the director of the Oak Cliff Boys & Girls Club, believes the event inspired the kids and opened up their minds to new opportunities and careers available to them such as working for Lexus.
Click on the images below to see more photos! Also to read the Marvel and Lexus Presents Black Panther: Soul of a Machine comic book online and to see more pictures of the car visit here.