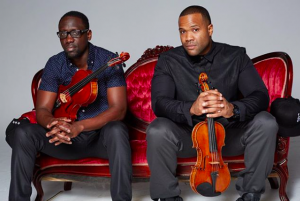 By Jazlyn Mercer, NDG Staff Writer
Black Violin, a duet violin group featuring Wilner Baptiste and Kevin Sylvester are known by their stage names Wil B. and Kev Marcus. Wil B spoke by phone with the North Dallas Gazette before hitting the stage at AT&T Performing Arts Center on March 9.
This was not the groups first trip to Dallas. The group loves Dallas, they said. Wil B. said the crowd always comes out when they visit Dallas. With every city that the duet goes to, they have a unique mission. The violinists hope that at every show they can inspire people to embrace their uniquenesses and differences. They have learned to embrace their own differences through music.
"We are two big black guys that play violin," said Wil B. "We are people who don't look like your typical violin players, and we hope others can see that they can do something different, too." 
He believes music has helped him throughout his entire life. He found the violin by accident at a music camp in the summer when he was in middle school. He originally signed up to play saxophone but was placed in the violin class instead. Instead of switching to the saxophone class, he decided to stick with the violin. He grew to love it.
The two met in high school, at Dillard High School of Performing Arts. They then went to Florida State University and eventually started playing together in clubs, and decided to go by the name Black Violin inspired by an album by jazz violinist Stuff Smith.
The duet sent a tape to Showtime at the Apollo, the world-famous competition held in Harlem. The crowds went wild at Apollo, said Wil B. resulting in a victory for the pair. 
"That's when we knew this was very serious and special," said Wil B.
The two have a unique twist to their approach to the violin. They incorporate hip-hop and R&B into classical music to create their style. Will B. describes their music as a large pot of gumbo with a whole lot of ingredients. Sixteen years of performing together, the duet has always tried to promote a message and vision of unity.
"You can do anything," said Wil B. That is the message they want to spread at every performance.
Now, the duet strives for their music to continue to evolve and grow while spreading a message of diversity and embracing individuality, even when it is different from the norm.