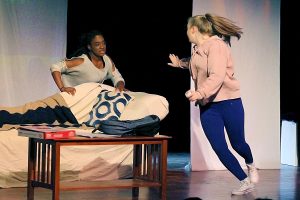 By David Wilfong, NDG Contributing Writer
Bishop Arts Theatre in Oak Cliff is currently running its annual "Down for #TheCount" festival, which is a celebration of women's voices in theater, showcasing one-act plays by various female playwrights. This year's production showcases works by Maryam Obaidullah Baig, Kristiana Rae Colon, Katherine Craft, Tsehaye Geralyn Hebert, Linda Jones and Ife Olujobi.
The performance is divided down between six one-act plays, running the gamut from a monologue (Jones' "The Sound") to a redneck tale-turned-South Asian-inspired dreamscape (Baig's "Jo Chaho Tum"). All of which is carried out by a consistent cadre of performers. The disparate sourcing of material was aligned by a common theme.
"What made the process a little bit easier for me was the through-line the director, Miss Phyllis (Cicero) established at the beginning," said actress Feleceia Benton. "The through-line of the whole show was about the lies that we tell ourselves, especially as women. And so I tried to keep that as the underlying thing that I thought about going from one character to the next. So I tried to find some congruence as I transitioned, to try to shift completely out of one character into the next."
"Down for #TheCount" is not a show for younger audiences. It deals with very real themes such as drug abuse, unplanned pregnancy and racism. The staging is minimalist and the flow of the performance is carried by the strength of the acting performances.
Regular attendees of Bishop Arts Theatre will see familiar faces like the powerful Ash'lee L'Oreal Davis and Kenne Earl (both veterans of Bishop Arts' production of "Ruined"), as well as newcomers like Ashley B. Jones, who opens the first act of the show.
For those who have never attended, the Bishop Arts Theatre Centre provides Dallas with an Off-Broadway-style intimate venue for taking in live theater performances in the heart of the growing North Oak Cliff district. In particular, the "Down for #TheCount" festival is a fast-paced flood of vignettes which is both thought-provoking and visually stimulating. It showcases up-and-coming playwrights, with a special emphasis on local talent.
"I wanted to make sure that every playwright was valued," Cicero said. "In my production values, in my acting, in my directing; that every single playwright was a unit that was their own. However, I wanted a through-line for my audience. There needed to be a through-line, so that when we talk about women's issues, we don't go all over the place. We're not scattered. It's not an explosion. It is a through-line, and one of the through-lines that kept coming to me was lies and illusions.
"Now that could be taken negatively. I did not. There are lies we tell every day. There are illusions that we create. Some of them we create and maintain for years. There are situations that we either lie our way out of or elude. And that's human beings. That's not strictly women."