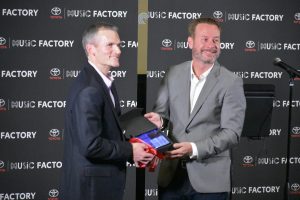 By Rachel Hawkins, NDG Staff Writer
Irving and fellow DFW foodies and music lovers are finally getting their place to shine. Guests, city councilmen, and workers excitedly gathered in the newly built Alamo Drafthouse, in theater two, on Friday April 13 to watch the ribbon cutting of the Toyota Music Factory, in Irving.
After years of hard work, it is finally up and running and ready to add a new twist to Irving's entertainment and nightlife. The grand opening festivities lasted from April 13 to 15.
The Toyota Music Factory is a $200 million venue with more than 500,000 square feet mixed entertainment and lifestyle complex located in the Las Colinas Urban Center. It features 25 restaurants and entertainment venues.
"We've been waiting for this moment since 2007 when Irving voters approved the financing for the newest grandest entertainment destination in Irving," Beth Bowman, President, and CEO of Greater Irving-Las Colinas Chamber of Commerce said. "This is the epic center for music, food, movies, and events of every type. With more than 15 restaurants, world-class entertainment, and a 3 in 1 outdoor pavilion, there is something for everyone in one place in the heart of Irving.
"It starts out with a dream," Rick Stopfer, Mayor of Irving said. "Everything starts out with a dream, but seeing them fulfilled is something we don't always get to see happen.
The Toyota Music Factory has an 8,000 capacity indoor and outdoor amphitheater, The Pavilion, and a 50,000 square foot event plaza. It is operated by Live Nation, one of the largest concert entertainment companies in the nation.
The Pavilion at Toyota Music Factory which is the centerpiece of the Toyota Music Factory plans to feature not only live music, but fashion shows, farmers markets, food festivals, and several events throughout the year.
The entertainment development will also feature: the Alamo Drafthouse Cinema, an indoor theater that consists of movies and food all under one roof, Texas Lottery Plaza, the outdoor stage that plans to host live entertainment and special events, various type of restaurants that ranges from seafood, bars, Tex-Mex, pizzerias, frozen yogurt, salads bars, Japanese and Latin-inspired foods, New York-style delis and more.
"The dream for creating a city within a city is finally here," Noah Lazes, President of ARK Group and developer of Toyota Music Factory said. "What's a better place than Irving, the heart of DFW. We have a DART stop, fantastic transportation, housing, and office spaces and now we have a new entertainment center to go along with it. We all know about the music side, but we need to realize that the factory is more than just music.
"There is something here for everyone," Lazes said. "Whether you are five or fifty years old, whatever your food, or music preference is we got something here for you. The city of Irving, and especially the City Council have been involved in this project for much longer than we have. The city of Irving residents is also to thank. Part of the funding for this project came from a voter referendum approved by the voters of Irving. The stood up and said we want this here."