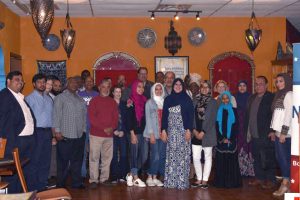 By Rachel Hawkins NDG Staff Writer
Nuzhat Hye, an Irving resident since 1989 and a candidate for Irving School Board Place 4 is determined to change the quality of education for the students, teachers, and parents.
"What inspired me to run was seeing the current start of Irving School District, and the numbers and demographics," Hye said. "We can do better, we can be competitive with other school districts. We need to service our students because many of them come from many backgrounds and some underprivileged.
"A majority of our students are Hispanics, followed by African Americans and Caucasians," Hye said. "When I'm looking at the numbers and talking to the teachers, I feel that we need to work with parents and students to motivate them. I'm used to working with kids on both sides of the spectrum, and I feel that if I can work at grassroots levels and bring the school district up, it's a win-win situation for our city as well."
To get everyone on board she plans to host town hall meetings, create focus groups, and establish committees to ensure the involvement of all stakeholders.
Game Plan for Success
If Hye wins the election, she has outlined three main goals as part of her plan to improve the school board.
Her first goal is to improve the number Irving ISD graduates pursuing higher education.
"Irving is graduating almost 100 percent of its students from high school, but a very small percentage is actually making it to colleges," Hye said. "That's of concern to me, I want these students to be empowered, and have good scores. As for the students who cannot or do not want to go into the four-year colleges, we want them to come out with the skills they will need for securing a well-paying job."
Her second goal is gaining more engagement from the parents.
"Unless students get the support from their homes, they are not going to be very successful," l said. "We know that a lot of these parents are ESL. We want to engage the parents to make choices with their children's education and understand the opportunities available for them."
Hye plans to bring in translators, and motivators who can draw the parents into the schools, help them feel more comfortable with the process, and get them involved.
"I have talked to parents and teachers whose students have come from broken home. These students are not only getting the parent support but the social counseling they need. I once talked to an elementary school who had 800 students and only two counselors."
Her third goal is to improve student performance on standardized tests, helping to improve the reputation of the district.
"If the district is seen as stronger, then we can attract more residents to Irving," said. "Right now people are leaving Irving to go into Coppell and Farmers Branch. We need to attract them back to Irving, and get businesses in Irving to bring our economic growth up."
Hye has reached out to school board trustees serving other districts to learn their best practices and identify ideas which can improve Irving ISD.
"Working with parents and teachers, and being one myself, I realized that teachers carry the flag barriers of the schools, and need to empower and work with them," said. "I have 35 years of experience in this field and being a team player, so that would help leverage to what works for other schools and for ours as well."