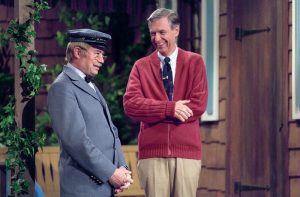 By David Wolfing, NDG Contributing Writer
When people reflect on the life and work of Fred Rogers, they often see it as a look back to a more peaceful, simpler time. But in truth, it was quite the opposite.
"Mr. Rogers' Neighborhood" debuted in a very tumultuous time in our country's history. The United States deeply mired in Vietnam and internal protest. It was a rough, chaotic period. The first episodes aired in 1968, and they have been a part of America's cultural landscape ever since.
The irony of the era in which Mr. Rogers first hit the airwaves was pointed out immediately in the new film, "Won't You Be My Neighbor?" which arrived in select theaters on June 8.
"Love is at the root of everything," Rogers said. "Love, or the lack of it."
Rogers, an ordained Presbyterian minister, had a simple philosophy and goal in his television career. Whatever crisis hit the country as a whole, or a child's family in particular; Rogers was always there to tell them calmly, "I like you just the way you are." As TV entertainment raced forward with sensationalism, shock and conflict; Rogers extolled the simple pleasures in life. When the media pushed onscreen antics at a mile-a-minute pace to keep their audience's attention; Rogers would quietly feed the fish.
In that simplicity, Rogers became an icon.
"Won't You Be My Neighbor?" takes an in-depth, behind-the-scenes look at Rogers' career. Through interviews with those in his family and professional circle, the film outlines the rise of one of the most prominent children's shows in the history of television.
In addition to providing an opportunity to reminisce (since almost everyone in today's movie-going audience is young enough to have been a viewer), the film shows the parts of his life and working environment which do not fit the flawless persona. Rogers had a few struggles in his early life. There were some doubts and disappointments in his career. He dealt with apathy in Congress toward public television and a film crew who could sometimes be downright bawdy.
Through it all, the film does a great job of memorializing the story of a man who had a positive, lasting impact on generations of children. It points out radical statements on our culture, made with the simplest words and gestures. Its message of unrelenting love and acceptance is timely in our culture today.
Best of all … it gives us hardened adults an excuse to follow the trolley one more time, into the Neighborhood of Make-Believe. Most of us are overdue for a visit.