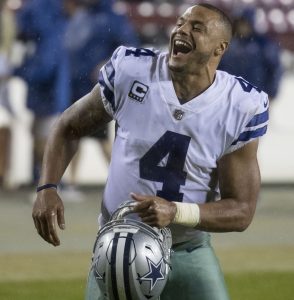 By Dwain Price, NDG Sports
ARLINGTON – That surprisingly dominating performance the Dallas Cowboys put on the Jacksonville Jaguars this past Sunday at AT&T Stadium is precisely what they would like to do every week on a consistent basis.
The Cowboys turned the highly-touted Jaguars every which way but loose en route to embarrassing Jacksonville in stunning fashion, 40-7. In the end, Dak Prescott ran for one touchdown and tossed a pair of touchdowns to Cole Beasley, and the defense completely stymied a Jaguars squad that was considered one of the best the NFL has to offer.
"It was the most dominating performance we've had since I've been here," said running back Ezekiel Elliott, who rushed for 106 yards on 24 carries and scored a touchdown. "We knew what we wanted to do.
"We came out and started fast and executed well and we handled our business."
The Cowboys were up by a commanding 24-0 at intermission after scoring on all four of their first-half possessions. It was like taking candy from a baby day for the Cowboys, who showed how powerful they can be when they're clicking on all cylinders.
"Everybody came to work (Sunday) and did their job to the highest level," defensive end DeMarcus Lawrence said. "I'm just proud to be alongside this group."
Jacksonville was held to just 204 total yards, and the relentless Cowboys defense sacked Jaguars quarterback Blake Bortles three times and harassed him all day long.
"It was a good win against a good team," coach Jason Garrett said. "Every phase contributed, every phase played well throughout the game — 60-minute effort on offense, defense, and the kicking game — everybody was a part of it.
"We played the way we want to play. Made some really good stops defensively, got them off the field on third down, and obviously, we were able to run the ball and throw the ball the way we wanted to throughout the game offensively."
Quarterback Dak Prescott completed 17-of-27 passes for 183 yards and also rushed 11 times for 82 yards. And after they made superb plays, Trevon Austin, Jeff Heath, Elliott, Prescott, and Beasley all performed the same strut similar to the one performed by mixed martial artist and boxer Conor McGregor, who was on the field and pumping up the Cowboys during pre-game warmups.
"It was huge from the point of complimentary football," Prescott said. "It's definitely the best we played from executing to taking advantage from the defense giving us turnovers and good field position.
"We were just feeding off of each other. We felt it early. I don't know if it was Conor McGregor or what it was, but we came out and attacked and it was a great win."
So great that it puts the Cowboys (3-3) just half-a-game behind the NFC East-leading Washington Redskins (3-2). Thus, first place will be on the line when the Redskins host the Cowboys on Sunday at 3:25 p.m.
Meanwhile, Beasley scored on catches of 17 and nine yards against the Jaguars after not having a touchdown in 12 games. He finished with nine receptions for 101 yards – the second career game where he's caught passes for 100 or more yards.
"I was just glad I could make the plays that I needed to (in order) to move the chains and help the offense move," Beasley said. "Any time I can do that, whether it's 10 targets or three, I've got to do it."
Defensively, the Cowboys were energized by the return of tackle David Irving, who missed training camp, the first four games of this season due to a suspension and the fifth game for personal reasons. Irving only got in three practice sessions last week, but he made his presence felt against the Jaguars.
"He looks like he's 11 feet tall out there," Garrett said. "He was in the backfield and penetrating and it was great to see him out there."
The Jaguars were considered one of the NFL's top defenses and had allowed just 17 points per game before running up against the Cowboys' determined offense. In the meantime, the Cowboys' defenders were determined to show Jacksonville that they also could be resourceful.
"We just understand that we are an elite defense as well," linebacker Jaylon Smith said. "Every time you step on the field you want to dominate your opponent.
"Playing against another great defense as well, it only adds fuel to the fire. So we succeeded."
The 40 points Dallas scored were the most scored by the Cowboys since they beat up the San Francisco 49ers, 40-10, on Oct. 22, 2017.
"The offense came to work (Sunday)," Lawrence said. "They started fast and got in the end zone fast to put the pressure on their offense to compete.
"Overall, the defense got (two) turnovers tonight, put pressure on the quarterback and made it unsafe for him. We have to keep this pressure up and continue it next week."