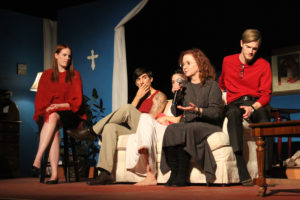 By David Wilfong, NDG Contributing Writer
The Bishop Arts Theatre Center took a turn toward the south with its production of La Llorona, a story taking place in Mexico City. It is a small and intimate production consisting of only four characters, a young couple from Distrito Federal, and another from the U.S. as they arrive to work on the corporate expansion.
The story takes place against the backdrop of the early days of the North American Free Trade Agreement (NAFTA), a time in which market uncertainty led to high unemployment in Mexico. Needing to make ends meet, Carlos (portrayed by Coy Rubalcaba) and Irma (Nicole Romero) rent their family home out to the American couple; Jeffrey (Nolan Spinks) and Liz (Janae Hatchett).
The two couples, though from different worlds, share a lot in common as both are expecting their first child when the play begins. Both couples are enduring a rough transition, and both find themselves in uncharted — and sometimes uncomfortable — living arrangements. As the play progresses, the twists and turns pile on, and the outcome is anything but expected.
Following the Friday performance, playwright Kathleen Anderson Culebro joined the actors onstage to discuss her work.
"I think as a country we tend to take care of our own too much; to the exclusion of everyone else," Culebro said.
The corporate expansion hearkens back to the things she saw in Mexico when NAFTA first arrived.
"I remember Taco Bell taking out an ad in the newspaper, and I thought it was really funny," Culebro said (the fictitious chain in the play is Taco Tower).
Romero gives a standout performance as Irma, with her best acting taking place between her lines. For anyone having been a houseguest in Mexico, the subtle eccentricities of a Latina host are authentic and spot-on. To which she later shrugged and explained off by saying," I'm a Latina."
La Llorona contains some dark subject matter and might be a bit heavy for younger audiences. The play continues through Feb. 24 at the Bishop Arts Theatre Center (215 S. Tyler St. in Oak Cliff).