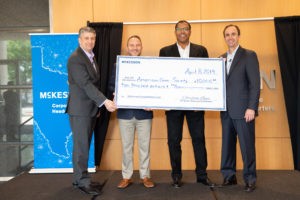 McKesson Corporation has made it official, they are a Texas-based company as of April 1. Hundreds of employees joined Brian Tyler, the company's new CEO on April 8 to celebrate the milestone at their new Las Colinas corporate headquarters. The event featured a ceremonious unveiling of the new McKesson signage.
"For nearly 50 years, McKesson's corporate headquarters was in San Francisco. In fact, that is where I started my career with the company. And while it was not an easy decision to move our headquarters from San Francisco to Las Colinas, it was the right decision. The Dallas metro area provides McKesson with a great environment to do business. We have room to grow. Our employees can afford to live here more easily. We have a great pool of talent," Tyler stated.
In addition, McKesson's Brian Tyler presented a check for $10,000 to the Dallas chapter of the American Cancer Society. Supporting cancer charities is a focus of the McKesson Foundation which invests in organizations that provide a wide range of cancer support programs.
Opened in 2017, the Las Colinas campus is an existing employee hub with teams performing vital functions for the company in areas such as operations, information technology, finance and accounting, marketing and sales, administration and support, purchasing, and project management. There are more than 1,500 employees currently based at the Las Colinas campus—and the company has more than 100 jobs currently available, with additional jobs being added weekly.
To learn more about career opportunities with McKesson at Las Colinas or other locations, visit the Careers page on the McKesson website.