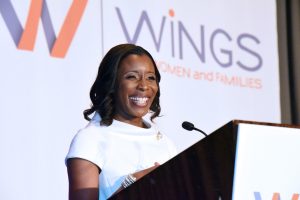 WiNGS, a Dallas nonprofit that empowers women, fights poverty and impacts generations, hosted more than 500 guests at its Mentors & Allies Awards Luncheon, Thursday, May 16, at the Omni Dallas Hotel. The annual event honors individuals and corporations for their commitment to lifting up women. This year's luncheon also featured a panel of local and national experts who discussed solutions to poverty and ways to make Dallas an opportunity city for all.
A testimonial from WiNGS graduate Hope Oriabure Hunter underscored how investing in women has positive effects, not just for individual women, but for their families and communities. After participating in WiNGS' Finance & Career and Women's Enterprise programs, Hunter achieved financial stability and started her own successful business, Black Tie Babysitting.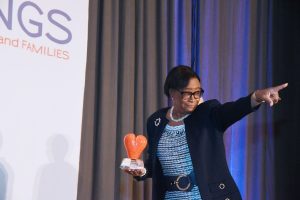 Jennifer Ware, CEO of WINGS, presented the 2019 Mentors & Allies Awards to:
Corporate Woman of the Year: Cynt Marshall, CEO, Dallas Mavericks
Woman Entrepreneur of the Year: Mahisha Dellinger, CEO/Founder, CURLS & TV Host, The Oprah Winfrey Network, and Sabrina Harrison, Owner & Interior Designer of MINT Dentistry and Founder of Equipped by Faith
Corporation of the Year: Aimbridge Hospitality
Ebby Halliday Volunteer of the Year: Dr. Rochelle Webb, CEO, 3W Consulting Group
This year's event raised more than $233,000 for WiNGS and its Nurse-Family Partnership, Finance & Career and Women's Enterprise programs. NBC 5 Anchor and Reporter Katy Blakey returned as emcee for the third year. Tiffaney Dale Hunter served as the Luncheon Chair and Michelle Hudson served as Underwriting Chair. The event's Honorary Chairs were Hilda Galvan, Liz Minyard, and Anne Motsenbocker.
A highlight of the event was a panel discussion on the economic divide in Dallas and strategies to make Dallas an opportunity city for all. KERA's Courtney Collins, a lead reporter in the award-winning "One Crisis Away" series, served as the moderator for the discussion featuring panelists Andrea Levere of Prosperity Now, Alfreda Norman of the Federal Reserve Bank of Dallas and Prashanthi Ravanavarapuof PayPal.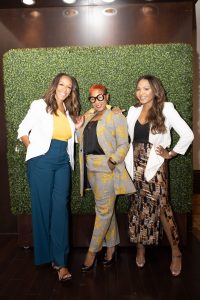 Levere stated that the wealth divide between white and minority households in our nation is "unconscionable" and two-thirds of the households in communities of color do not have three months of recommended reserves and could easily slip into poverty in case of a job loss.
Norman noted that despite the strong economy and low unemployment, now is the time for Dallas to address poverty. She said, "We are at a moment in time in our nation when we have to figure out if we are going to share this great prosperity and grow the pie."
Ravanavarapu shared that she guides her team at PayPal to show empathy instead of sympathy with their customers, and that "we need to think like an ecosystem."
WiNGS CEO Jennifer Ware summarized the effect of poverty on women saying, "Poverty is defined as 'the state of being extremely poor, but the reality of poverty is much more. It is a cycle, often generational, that impacts a woman's confidence, optimism, and belief in herself to move beyond the life she leads today."
Guests in attendance included:  Michele Bobadilla, Yolanda Brown, Annika Cail, Randall Graham, Veronica Torres Hazley, Terri Hudson, Danyel Surrency Jones, Jamelia Lehn, Velena McCrae, Lynn McBee, DeDe McGuire, Regina Montoya, Starlette Johnson, Deya Smith Taylor, Emily Touchstone, and Jamie Williams.