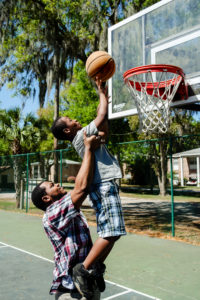 This week in our NDG Community Calendar we have announcements about Friday Night Basketball, Moon Day, and more.
Dallas
Children's playhouses designed by some of Dallas' premier builders and architects will be on display at NorthPark Center July 12 to 28 for Dallas CASA's 24thannual Parade of Playhouses. Dallas CASA's signature community awareness event which raises funds to serve abused and neglected children, Parade of Playhouses will feature 17 perfectly pint-sized creations on display and available to win by raffle.
Friday Night Basketball Live is each Friday night in July from 8 p.m. at 11:59 p.m. at St. Philip's Community Center (1600 Pennsylvania Avenue) hosted by Victory Baptist Church of Dallas.
Frontiers of Flight Museum is celebrating Moon Day to honor the 50th Anniversary of the historic Apollo 11 Moon Landing. John Blaha, retired United States Air Force colonel and a former NASA astronaut, will be the keynote presenter. He is a veteran of five space missions aboard the Space Shuttle and Mir. Stay tuned for more exciting details about featured presentations, Moon Academy, Lunar University, and over 30 exhibitors who will provide hands-on STEM Education activities. The celebration, which is the biggest annual space exposition in Texas, is set for Saturday, July 20 from 10 a.m. to 4 p.m. at the Frontiers of Flight Museum, 6911 Lemmon Ave. Moon Day is free with Museum admission ($7-$10; Museum members and children under 3 are free).  Through the Blue Star Museums program, admission is free for active-duty military and their families.
Wealth & Whiskey Talks – If you are seeking to increase your financial IQ in a not so boring manner, this event is for you. This intimate event and private group conversation, with a whiskey twist, is centered on wealth empowerment and advanced financial strategies. Many of us have the desire to attain wealth but do not know the formula to get there. Event host, Chris "Fish" Fisher, brings in Subject Matter Experts to discuss all things surrounding earning, growing, protecting, and transferring your wealth. This month's topic is "The Untold Rules of Money" on July 18, 6 p.m. to 8 p.m. at Ink Realty Group at 1881 Sylvan Avenue #100. Tickets available at Eventbrite.
Desoto
Women Empowering Each Other by uplifting: Self-Esteem; Collaboration; Networking; Finances; Health and etc. The event is scheduled for July 20 for 10 a.m. to 4 p.m.at Church of The Disciple United Methodist located at 220 S Cockrell Hill Rd. Registration Cost: $35.00; Booth Fee: $75.00 and T-Shirts: $15.00 Youth Girls are welcome.
Garland
Join TeamConnor & Hawaiian Falls for the 8th Annual Splash Out Childhood Cancer on July 17  and help find a cure for cancer. Purchase discounted tickets from TeamConnor to Hawaiian Falls for $22.  Children two years old and under are free.  Tickets are valid through to any of the five Hawaiian Falls waterparks: Garland, The Colony, Mansfield, Roanoke, and Waco.
The Community Multicultural Commission in Garland invites you to A Community Conversation from 10 a.m. to noon Saturday, July 20, at Gale Fields Recreation Center, 1701 Dairy Road. Topics will include the 2020 census, building permit process, code enforcement frequently identified issues, Literacy for Life, and safety. For more information, contact CMC@GarlandTX.gov.
Irving
Dallas Area Rapid Transit (DART) will hold its next ADA Community Meeting on Saturday, July 20, 2019, 10 a.m. – 12 p.m., at Irving Heritage Senior Center, 200 S. Jefferson St., Irving, TX 75060, MAPSCO grid 71B-Y.
This location is two blocks south of the Downtown Irving/Heritage Crossing Station, served by the Trinity Railway Express (TRE). From the station, DART Bus Routes 408-PARKLAND STATION, 549 and 840 provide direct service to the Center on Saturdays.
Lancaster
SAVE THE DATE: Ms. Ester Davis, TV Producer, and Anchor of "The Ester Davis Show" is one of the panelists with healthcare professionals discussing the high rates of cancer in the African American community. The free buffet breakfast will begin at 8 a.m. on July 20 at the Lancaster Rec Center, 1700 Veteran's Memorial Parkway. Oncologists will give updates on symptoms and treatments for prostate, colon and pancreatic cancers. RSVP early at 800-677-8441.
Mesquite
Drum Corps International will present DCI Mesquite on Monday, July 22 at Mesquite Memorial Stadium. The show is presented by the U.S. Marines Drum & Bugle Corps and is part of the 2019 Summer Tour that includes more than 100 shows in 37 states with 45 drum corps on the road to World Championship Finals in Indianapolis August 10.
Advance tickets are available at www.dci.org/events or by calling 317.275.1212.  Tickets will also be sold at the gate.
Plano
Come join us in a trip back to the 70's when Art Centre Theatre presents  Saturday Night Disco Fever on Aug. 2 – Aug. 11. Put on your best polyester suit, crank up the BeeGee's on your 8-track player and come relive the sights and sounds of the 70's. They are featuring the best songs and dances from everyone's favorite era for you to boogie down to. Tickets are purchasable online at artcentretheatre.com for $15, but prices are subject to change at the door. Tickets can be purchased online at www.artcentretheatre.com.
If you have an upcoming event to announce, email editor@northdallasgazette.com with the headline COMMUNITY CALENDAR by 5 p.m. on Tuesdays.