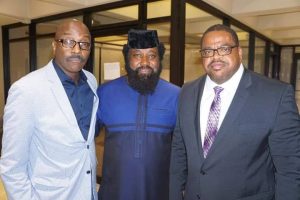 Local ministers in Fort Worth attempted to meet with Mayor Betsy Price to address their concerns surrounding the shooting death of JaQuavion Tyreke Slaton on June 9 at the hands of a Fort Worth police officer. However, the meeting concluded abruptly when the ministers walked out in frustration.
"We felt we were being manipulated," according to Pastor Kyev Tatum, New Mount Rose Missionary Baptist Church.
The ministers were dismayed to learn from Interim Police Chief Ed Kraus the fact the officers involved in the shooting area already back at work. Kraus was sworn in following the firing of former Police Chief Joel Fitzgerald, another issue of concern for many in the minority community.
"This is deep-rooted discrimination and defamation of character from the city's leadership. They've never seen blacks as equal. The City of Fort Worth has been one of the most prejudice cities in America against blacks for decades. Its blatant bigotry," Pastor Kyev Tatum added.
The ministers at the meeting who left included Pastor Michael Bell, Bishop Mark Kirkland, Pastor Kyev Tatum, and Brother Jesse Taylor.
"This was an insult to our intelligence," Bishop Kirkland stated.
The coalition of ministers is seeking federal intervention and a consent decree from the US Attorney General.