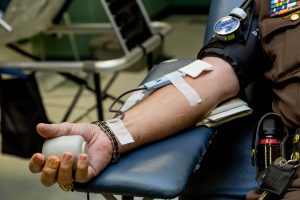 Update Aug. 3 at 4:13 p.m. – Each of the 14 DFW Macy's locations is hosting a blood donor drive every Saturday in the month of August. Contact the local store for more info. 
By: Ruth Ferguson, NDG Editor
Although our headlines fill with near-daily news of gunshot victims in DFW, they are not the only ones causing a drain on local blood supplies. With rising temperatures, travel, and disrupted routines, donating blood is not top-of-mind for many.  This summer, the supply for surgeries and routine healthcare in Dallas is critically low, according to Carter BloodCare.
"There is a real risk that by Wednesday we will not be able to meet all the orders for transfusion. We have two days to avoid a crisis," according to the organization's early-morning announcement on Monday. "We do see drops in donations each summer, but we are usually still able to maintain services."
Each year in the summer, traditionally there is a drop in donations. Several factors are contributing to this.
"The first is that high schools are on summer break," according to Linda Goelzer, a spokesperson for Carter stated. "We receive as much as 22 percent of our annual collections from high school blood drives, which include faculty and students; sometimes it includes some community or parents."
They are sounding the alarm bells because this is not your typical summer shortage.
"This summer's situation is exceptionally unusual," Goelzer said. "With the shortage occurring nationwide, we are unable to find help from other blood centers. Other large blood programs have reached out to us, and we are unable to support." She also stated usage by hospitals has not risen, but unfortunately, "this summer is much worse, for a reason that is not understood nationwide."
Blood collections from donors are not keeping pace with the transfusion needs of hospital patients.
"We are urgently calling on the community to please help avoid this crisis by donating," Goelzer warns. "There is no other option because there is no substitute for blood."
Anyone interested in donating blood can visit Carterbloodcare.org to locate a blood drive or donation center. Or send a text or call 800-366-2834.