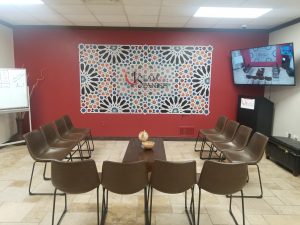 By: Badees Nouiouat, NDG Special Contributor
Eid ul Adha – August 11th marks the day of Eid ul-Adha, a celebration in remembrance of Prophet Abraham and his sacrifice. Muslims around DFW will be attending special prayers at their nearby Mosque and spending time with family and friends. Check with your local mosque to find prayer timings.
Eid Bazaars – In preparation for Eid, there will be an open bazaar held at the Islamic Center of Irving on August 3, and at Valley Ranch Mosque on August 9. Vendors will be selling clothing, gifts, cultural items and more. All are welcome to attend.
Embrace: Family Game Night
– Embrace, an organization which organizes social events for new Muslims or people interested in Islam, is planning a Family Game Night on Saturday, August 3 at 901 Clinic Dr. in Euless. This will be held on the 1st Saturday of every month going forward. Find out more on their Facebook page at
Embrace – A project of ICNA
.
IslamInSpanish Monthly Potluck
– The IslamInSpanish Dallas Outreach Center hosts a monthly potluck on the 3rd Saturday of every month at their location: 13021 Coit Rd #108. Everyone is welcome to attend. Find out more on their Facebook page at
IslamInSpanish Dallas Outreach Center
.
Misconceptions About Islam Training
  – WhyIslam Dallas is holding 8 bi-weekly training sessions with expert scholars and teachers to clear misconceptions and train attendees to communicate the message of Islam clearly. This will be held at the East Plano Islamic Center. Register online at 
http://icnadallas.org/WhyIslamDawahSeries2019/.