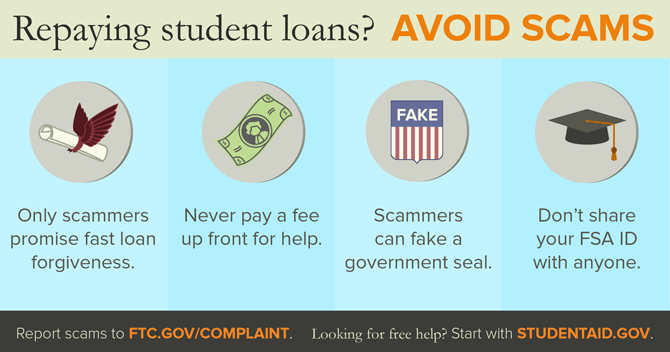 Defendants allegedly bilked millions out of consumers by charging illegal upfront fees and falsely promising to lower or even eliminate consumers' loan payments or balances
The Federal Trade Commission (FTC) charged the operators of two similar student loan debt relief schemes, and a financing company that assisted them, with bilking millions of dollars from consumers.
The defendants allegedly charged illegal upfront fees that they led consumers to believe went towards consumers' student loans, and falsely promised that their services would permanently lower or even eliminate consumers' loan payments or balances. The defendants also signed customers up for high-interest loans to pay the fees without making required disclosures.
In one action, brought jointly by the FTC and the State of Minnesota, the student debt relief company and the financing company involved agreed to be banned from the debt relief business in order to settle the charges. In the second action, the financing company has agreed to settle but the FTC's litigation continues against the student debt relief defendants.
"Working with our law enforcement partners across the country, we have brought dozens of cases against debt relief scams like these," said Andrew Smith, Director of the FTC's Bureau of Consumer Protection. "The difference here is that a state-licensed finance company was knowingly participating in the scheme by financing the thousands of dollars in illegal fees that these scammers tricked consumers into paying. This is yet another example of how we are holding accountable companies that facilitate fraud by others."
According to the FTC's complaint against Manhattan Beach Ventures and Equitable Acceptance Corporation, MBV deceptively promoted payment reduction programs to consumers looking for help with their student loans. MBV charged consumers up to $1,400 and funneled them into financing this fee through a high-interest loan with third-party financier Equitable Acceptance Corporation, another defendant in the scheme. The State of Minnesota is a co-plaintiff in the action against MBV.
In its complaint against Student Advocates Team and Equitable Acceptance Corporation, the FTC alleges that a different set of defendants engaged in deceptive and abusive practices for several years that were similar to those alleged against MBV, charging consumers up to $1,400 and also enrolling their customers in EAC's financing program.
The FTC alleges that the defendants in both cases violated the FTC Act and provisions of the Telemarketing Sales Rule (TSR). EAC is charged in both cases with violating the assisting and facilitating provision of the TSR by providing substantial assistance to MBV and Student Advocates when it knew, or consciously avoided knowing, that the defendants were engaged in deceptive and abusive telemarketing practices. EAC is also charged in both cases with violating the Truth in Lending Act by failing to clearly and conspicuously disclose in writing necessary information concerning the closed-end credit that it offered.
The stipulated order with MBV and its owners bans these defendants from selling any kind of debt relief products or services, making unsubstantiated claims about financial products and services, and also from making material misrepresentations about any other kind of product or service. It also imposes a $4.2 million judgment, in which all but $156,000 is suspended based on inability to pay. MBV is required to notify its customers that none of their prior payments have gone towards a Department of Education repayment program or towards their student loans.  Under the stipulated orders against EAC in both the MBV matter and the Student Advocates matter, EAC is required to pay nearly $28 million, all but $1 million of which is suspended based on inability to pay. EAC is also required to relinquish its right to collect on any outstanding balances from current or former customers of MBV and Student Advocates. EAC must also notify these customers that it will not collect further payments from them.
In the MBV matter, the defendants are Manhattan Beach Venture (also doing business as Student Loan Relief Department); Equitable Acceptance Corporation; and individuals Christopher Lyell and Bradley Hansen.
In the Student Advocates matter, the defendants are Student Advocates Team, LLC; Progress Advocates Group, LLC; Student Advocates Group, LLC; Assurance Solution Services, LLC; Equitable Acceptance Corporation; and individuals Bradley Hunt and Sean Lucero.
How to Avoid Student Loan Debt Relief Scams
To help consumers avoid falling victim to such fraud, the FTC has consumer education related to student loan debt relief scams at ftc.gov/StudentLoans.
Only scammers promise fast loan forgiveness, and they often pretend to be affiliated with the government. Consumers should never pay an upfront fee for help, and should not share their FSA ID with anyone.
Consumers can apply for loan deferments, forbearance, repayment, and forgiveness or discharge programs directly through the U.S. Department of Education or their loan servicer at no cost. These programs do not require the assistance of a third-party company or payment of application fees. For federal student loan repayment options, visit StudentAid.gov/repay. For private student loans, contact the loan servicer directly.