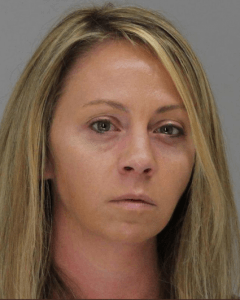 By: Ruth Ferguson, NDG Editor
Tuesday night Amber Guyger is spending her first night on the other side of the cell bars; taken into custody following her conviction for the murder of Botham Jean on Sept. 6, 2018. The jury's verdict followed seven days of testimony and presentation of evidence. They determined the former Dallas cop killed an innocent man and her actions warranted the higher charge of murder versus manslaughter.
She is facing a sentence of 5 to 99 years in prison. Guyger was taken into custody at the end of today's proceedings, but District Judge Tammy Kemp did not allow the cameras to capture the moment.
The sentencing phase began Tuesday afternoon and revealed more damaging evidence. Also, the jury heard from Jean's mother, sister, and work supervisor. Testimony will continue at 9:30 a.m. on Wednesday. It is unclear if the defense team will put Guyger back on the stand. Many speculate her testimony Friday was possibly a significant contributing factor in the jury's decision.
After working nearly a 14-hour shift, she claimed to mistakenly go to his apartment and shoot what she thought was an intruder. Guyger testified she was afraid for her life and did shoot to kill a person she considered an uncooperative suspect in her home.
The verdict was announced shortly before 11 a.m. and created a wave of emotion in the courtroom, across Dallas and the nation which has closely watched this case.
"This verdict is for Trayvon Martin," Ben Crump, an attorney for the Jean family, said to the media after the verdict was announced. "It's for Michael Brown, it's for Sandra Bland, it's for Tamir Rice, it's for Eric Garner, it's for Antwon Rose, it's for Jemel Roberson, for EJ Bradford, for Stephon Clark, for Jeffrey Dennis, Genevieve Dawes, for Pamela Turner."
Botham Jean family attorney Ben Crump after the conviction of Amber Guyger:

"This verdict is for Trayvon Martin, it's for Michael Brown, it's for Sandra Bland, it's for Tamir Rice, it's for Eric Garner … for so many unarmed black and brown human beings all across America." pic.twitter.com/UWA1da32gj

— NBC News (@NBCNews) October 1, 2019