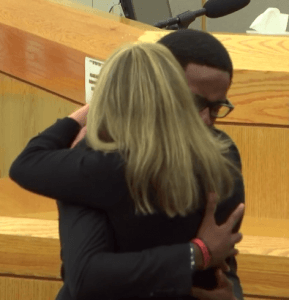 By: Ruth Ferguson, NDG Editor
The family of Botham Jean exercised their right to present a victim impact statement following the decision by the jury for former Dallas cop Amber Guyger to serve a minimum of 10 years for his murder. 

Only one member of the family spoke, his younger brother Brandt. His statement and then his actions left the courtroom speechless and some in tears.

"If you truly are sorry. I know I can speak for myself, I forgive you. I know if you go to God and ask him, he will forgive you," Brandt stated.
He went on to add his personal reflections, indicating they were not on behalf of his family.
"I personally want the best for you. I wasn't even going to say this before my family, but I don't even want you to go to jail. I want the best for you, because I know that's exactly what Botham would want you to do — to give your life to Christ."

Then he asked District Judge Tammy Kemp if he could hug Guyger, and permission was granted. They hugged several times and seemed to whisper statements to each other.

After this exchange, Judge Kemp came down from the bench and spoke to the parents of Botham Jean. They embraced and exchanged a few words.

Then once again in what is described as an unprecedented moment, Judge Kemp walked to where Guyger was seated and gave a Bible to her. Then she also hugged Guyger.
Speaking to reporters outside of the courtroom, Jean's mother, Allison, indicated the City of Dallas needs to address their internal issues as her family leaves Dallas. She stated it must be done for those who will remain. She spoke of the training cops receive to shoot to kill, stating if it was different, her son would be alive. Mrs. Jean alluded to what she considered efforts to cover-up and protect one of their own among the police. 
Not everyone in Dallas is feeling inclined to be so forgiving. Protesters took to the street late Wednesday night. They believed the sentence of only 10 years was not enough for the murder of Botham Jean on Sept. 6, 2018.