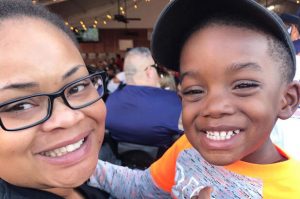 The funeral and wake for Atatiana Jefferson recently shot and killed in her home last week by a Fort Worth police officer, will be held at The Potter's House of Dallas. Bishop T.D. Jakes will deliver the eulogy. While her heartbreaking and untimely death has captured the nation's attention, the funeral will pay tribute to her life as a loving daughter, sister, and aunt.
"It is clear that the atrocity of this shooting opens up deep wounds that preceded this recent murder case that resonates far beyond our community," remarked Jakes, senior pastor of The Potter's House. "As a resident of Fort Worth myself, I understand the pain and anger associated with this tragic loss, however, the family has asked that the funeral not be overshadowed by her death but rather that the legacy of Atatiana Jefferson be honored and celebrated for the fullness of her life."
Earlier this week, former Dallas Maverick Harrison Barnes and his wife, Brittany Barnes, announced they would cover the costs of her burial.
Last Saturday, while playing with her 8-year-old nephew, Jefferson was shot through the window by former Fort Worth police officer Aaron Dean. He resigned from the police force before answering any questions, and three days after her death, he was arrested and charged with murder. Dean posted a $200,000 bond and was released.
The schedule for her homegoing celebration includes a wake for on Friday at 7 p.m., followed by funeral services on Saturday at 2 p.m. Both will be held at Potter's House of Dallas, 6777 W. Kiest Blvd.