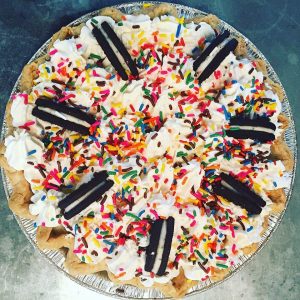 Coming soon is one of Norma's Cafe's favorite days of the year. The iconic Dallas diner will celebrate National Pie Day on Thursday, Jan. 23. Beginning at 10:00 a.m., all five locations will offer dine-in customers a free slice of their Mile-High Pies. No purchase is necessary and Norma's Cafe has everyone's favorite flavors to choose from, including coconut, chocolate, lemon, chocolate peanut butter, and Oreo.
"On a visit to any of our locations, diners will see our motto proudly displayed – "Life is Short…Eat Dessert First!" said Ed Murph, owner of Norma's Cafe. "Norma's has proven their place among Dallas's best pies and we're happy to share with customers a free slice of Mile High Pie on Jan. 23, as we have for over a decade now."
This is also the fifth consecutive year Norma's Cafe has teamed up with The Birthday Party Project, a local nonprofit that uses the magic of birthday celebrations to bring joy to children living in local homeless shelters. In January, all five Norma's locations are hosting donation drives. Customers are encouraged to drop off new toys and gift cards to donate to this worthy cause.
In addition, Norma's is bringing back their "Birthday Cake Pie™" for a limited time only. Throughout this month, guests can purchase either a slice or full pie, each made with birthday cake-flavored cream and Oreos cookie bits topped with homemade whipped cream, sprinkles and even more Oreos. All proceeds from the sale of this pie, as well as all toys, gift cards or cash donations, will directly benefit The Birthday Party Project.
Norma's Cafe takes its pies seriously and invites the public to enjoy a free slice of their Mile-High varieties on Thursday, Jan. 23. More info at www.NormasCafe.com.