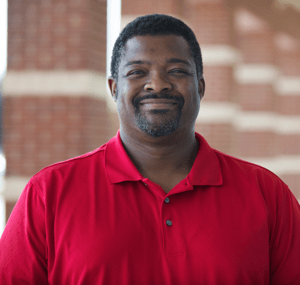 Greg Hill, a teacher at Mesquite ISD's Dr. John D. Horn High School since 2001, has been named 2020 International Educator of the Year (IEY) by the World Affairs Council of Dallas/Fort Worth. For more than 20 years, Hill has inspired his students to think beyond their hometowns.
Hill said, "service, leadership, and dedication" best describe his commitment to international education. Hill teaches AP Human Geography, World History, and American Cultural Studies. The 2020 IEY award ceremony will be held on Tuesday, March 31 at noon at the Belo Mansion.
The Council's International Educator of the Year Award Luncheon highlights the amazing individuals that make their education program, Global Young Leaders, possible. By working directly with high schools and universities, the Council has supported educators devoted to enriching their students' knowledge of world affairs.
Through his work and dedication, Hill inspires not only his students but also provides an example for other teachers to excite students about the world. He manages two Facebook groups for other educators, AP Human Geography Teachers of Texas and World Geography Teachers of Texas, which provide a forum for teachers to share teaching materials with one another to ensure their students are receiving the most engaging and interesting education possible.
In 2016, Hill was named a distinguished teacher (K-12) by the National Council for Geographic Education. The following year, he spent a month in Ecuador and Peru as the only social studies teacher in the Fulbright-Hays Group Projects Abroad Program with the Center for Latin American Studies. Hill has also traveled to multiple other countries in Asia, Africa, Europe, and Latin America. He believes travel breaks down barriers and hopes that through opening the eyes of his students to new places that he can inspire them to open their minds to the world.