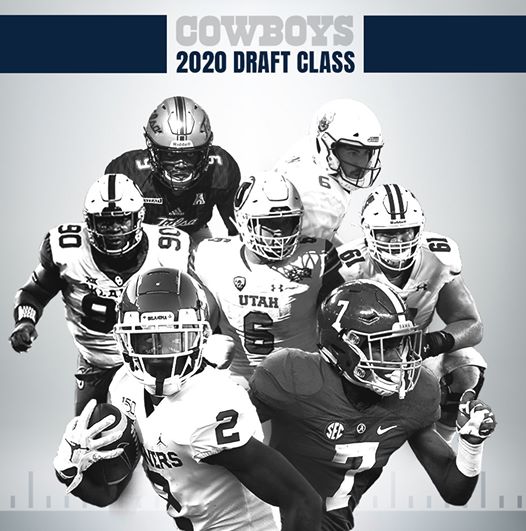 By Dwain Price, NDG Sports Reporter
FRISCO – With the NFL shifting gears and holding a virtual draft for the first time due to the coronavirus pandemic, Dallas Cowboys owner Jerry Jones described it as the best draft his team has assembled since 2005.
This past weekend the Cowboys were able to grab the No. 1 receiver in this year's NFL Draft in Oklahoma's CeeDee Lamb and followed that impressive acquisition by grabbing two top tier defensive players in cornerback Trevon Diggs and defensive lineman Neville Gallimore. They also used a pair of fourth-round picks to draft Tulsa cornerback Reggie Robinson II and Wisconsin center Tyler Biadasz.
In addition, in the fifth round, the Cowboys selected Utah defensive end Bradlee Anae. And the Cowboys used their final pick – a seventh-rounder – to nab James Madison quarterback Ben DiNucci as a backup to Dak Prescott.
All of this came as Jones hunkered down and orchestrated the Cowboys' draft proceedings from his massive $250 million yacht.
"I don't know why, but this situation may bring out the best in me," said Jones, while speaking from his yacht. "The old Moby Dick out there to the right and all of those added nuances just clears your head."
As Jones cleared his head and got down to the important task at hand, he was overly shocked that Lamb was still on the board when it was the Cowboys' turn to draft with the No. 17 overall selection. In three seasons at Oklahoma, the 6-2, 195-pounder had 173 receptions for 3,292 yards and 32 touchdowns.
"That was really surprising to us to see CeeDee sitting there," Cowboys executive vice-president Stephen Jones said. "We went through a lot of mock drafts, and I can tell you he wasn't a part of any of them just because we felt like he was a top-10 player in this draft and we would never see him."
Considered a serious game-breaker, Lamb had 24 career catches of at least 40 yards and six games with at least 160 receiving yards. The consensus All-American also averaged a school-record 19 yards per catch.
Like the Cowboys, Lamb thought he would be long gone by the time the Cowboys had their turn at the draft board.
"But I'm happy that's where I ended up," Lamb said. "I'm excited and everything — I'm thrilled.
"I'm surprised at where I ended up, but I'm thankful."
A multi-purpose receiver who can play in the slot or on the outside, Lamb is anxious about playing alongside receivers Amari Cooper and Michael Gallup, in addition to working with Prescott.
"Just help him help me, honestly, and me help him," Lamb said of Prescott. "Making sure we look good and going out there and doing what we love.
"I'm very comfortable in the slot. I'm very versatile, and I can't wait to be out there. I feel comfortable at all positions of the field. I can't wait."
The 6-2, 207-pound Diggs also can't wait to get to the Cowboys' practice facilities in Frisco and start working out with the team. The All-American revealed what it was like talking with Jerry Jones after the Cowboys used the 51st overall draft pick to select him.
"I was kind of starstruck, you know," Diggs said. "That's Jerry Jones, man. It's just amazing that I'm playing for him.
"I'm thankful and I'm happy to be part of the Dallas Cowboys. Words can't explain how I was feeling."
So, how was Diggs feeling when the Cowboys drafted him?
"My heart kind of dropped," said the brother of Buffalo Bills wide receiver Stefon Diggs. "I was just saying to him that I couldn't thank him enough.
"I didn't go as high as I wanted to, but I ended up where I wanted to go."
In the third round, the Cowboys drafted Gallimore, who was a teammate of Lamb's at OU. A first-team all-Big 12 selection, Gallimore (6-2, 305) is excited about also becoming a teammate of ex-OU defensive lineman Gerald McCoy, who signed a three-year contract the Cowboys less than a month ago.
"When you go to the University of Oklahoma to play on the defensive line, that's one of the main guys that gets brought up in terms of how you want to compare yourself and be the best," Gallimore said.
"Just studying and being a fan of his game, I knew where he could be.
"I thought if I wanted that opportunity to play at the next level, he was one of the guys I would really have to just look at it and see how his approach was and everything."
Meanwhile, the Cowboys were also in desperate need of a center after All-Pro Travis Frederick recently announced his retirement. And the fact that the Cowboys were able to execute a trade with the divisional rival Philadelphia Eagles in order to move up and obtain Biadasz was all the more pleasing.
"I felt like it was worth giving up a future pick to move up there and get him," Stephen Jones said. "He was the guy who was at the very top of our board by quite a bit, and obviously the position with Travis retiring you want to have great competition to get to see who earns and who deserves that spot."
Mike McCarthy, who is in his first year as the Cowboys' head coach, acknowledged that this year's draft was different in so many ways.
"First, just because of what we are doing from a virtual standpoint, I can't say enough about all the departments involved and the way everybody came together," he said. "The communication, the patience, and the collaboration that went into this was definitely unique. This is something I've never experienced, just from that perspective.
"As far as comparing this draft and the process, it is always different from the last place you've worked, and so forth. I think it is like anything in life — the communication and the individuals being on the same page. We had some fortune with the players that were available when it was our opportunity to pick, and we are ecstatic about the class we put together."
It's a formidable class the Cowboys hope will help them improve on last season's 8-8 record and possibly get them headed towards a berth in the Super Bowl.
In the meantime, Stephen Jones said the Cowboys will look to free agency to fill the necessary needs they were unable to fill via the draft.
"We've certainly got our eye on a few guys that we'll look at, but the good news is that going into the draft you felt good about our football team," Stephen Jones said. "Coming out of the draft we feel great about our football team.
"If we can improve it, we'll feel even better about our team and that's the way we'll look at it as we move forward. We think we've done a really good job here with our selections, Jones added"