By Stacy M. Brown
NNPA Senior National
Correspondent
Paul Murray, an army veteran from Texas already wanted by the Secret Service, was arrested outside of Vice President Kamala Harris's official residence.
U.S. Secret Service officers took Murray into custody after finding a large-capacity ammunition-feeding device, a rifle and ammunition, and another unidentified dangerous weapon.
Vice President Harris and Second Gentlemen Doug Emhoff have not moved into the residence at the U.S. Naval Observatory, and neither were there during the incident.
"The Brazos County [Texas] Sheriff's Office has been in contact with Paul Murray over the past two weeks at the request of family members due to his behavior," Texas officials wrote in a statement issued to the media.
"There were no criminal violations found, but our agency continued to monitor the situation because of concerning behavior and statements, as well as information that Murray may have been in possession of weapons."
Authorities said deputies, working with the family and health care providers to obtain a mental health evaluation, received information that Murray may have traveled to Washington, D.C.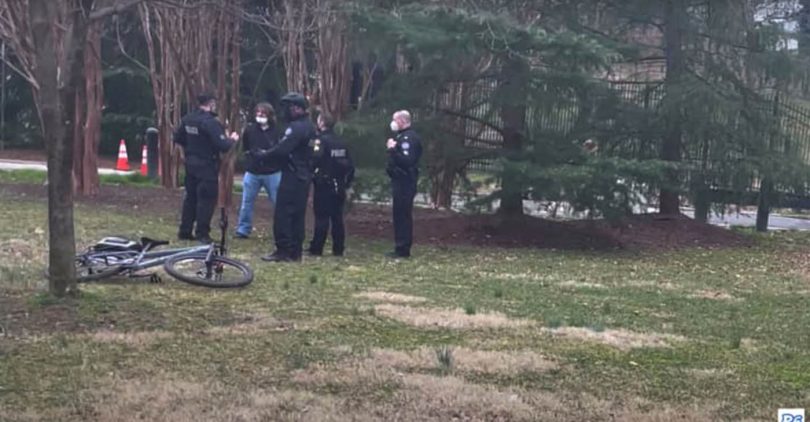 "We communicated that information with our local and federal partners in an effort to ensure the safety of all involved," the statement read.
"Sheriff [Wayne] Dicky is grateful for the efforts of all the agencies that took part in this event. It is through these efforts to share critical information that situations like this can be resolved without harm to anyone. Protecting our community is the highest priority of the Brazos County Sheriff's Office."
Murray's mother reportedly called the police to request a welfare check on her son, stating she was concerned about his mental state.
Court documents revealed that the 31-year-old Murray complained to police that he wasn't getting support from Veteran's Affairs and was not taking prescribed medication.
Despite the mental health concerns, many Americans have expressed concern that Murray may have targeted the vice president for political reasons or because she's a woman of color.
"He had a rifle and a large capacity clip in his vehicle," Twitter user @1988Vor wrote. "Is he just another 'bad day' Christian man or mentally disturbed?"
Neither Vice President Harris nor the White House has issued statements regarding the incident.