Arts education accessibility is on the agenda this February for Dallas Independent School District (D.I.S.D.) students. From Feb. 6-24, 2023, Dallas Black Dance Theatre (DBDT) and Broadway Dallas (BD) will come together for a second year to perform the highly acclaimed "Bodies as Site of Faith and Protest" for all of D.I.S.D.'s 141,000 students.
The groups will partner to make a virtual matinee performance of the work available at no charge to students during Black History Month. "Bodies as Site of Faith and Protest" brings to life Dr. Martin Luther King, Jr.'s "We Shall Overcome" speech.
Choreographer Tommie-Waheed Evans transcribed the speech into dance. The work presents a dramatic lesson on the emotional and spiritual struggle of the American Civil Rights Era. DBDT originally performed the work on stage in 2018.
In 2020 during the pandemic, the dance company filmed a reimagined version as dancers turned Dallas locations into their stage. DBDT performed scenes at Dallas City Hall Plaza, St. Luke "Community" United Methodist Church, Deep Ellum, South Dallas, Klyde Warren Park, and the One Arts Plaza parking lot. Dr. King's iconic words still ring true in this powerful work today.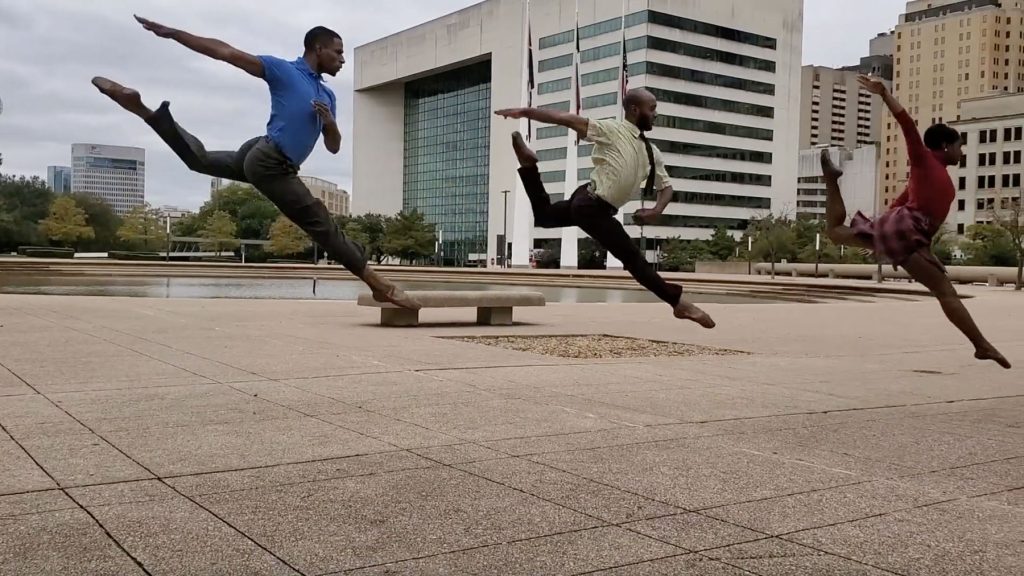 Tommie-Waheed Evans initially choreographed the dance as a part of his college thesis, exploring how speeches from the Civil Rights Movement served as a vehicle for social change. The dancers sing "a cappella" in the work, which adds depth and another layer of complexity to their performance. Evans is the founder and artistic director of the Philadelphia-based dance company waheedworks.
This arts education initiative is in keeping with the goals of the National Endowment for the Arts to promote equal access to the arts in every community across America, while providing dance, music, theater, visual arts, literary arts, and media arts education for all students. The NEA supports learning that affirms and celebrates America's rich cultural heritage and recognizes the important role of diverse arts education in engaging and empowering youth.
Dallas Black Dance Theatre is providing a 20-page guide for the teachers to use as a part of the student matinee presentation. The deadline for Dallas ISD teachers to register their classes to view the student matinee is February 17. Access to this special, on-demand performance will continue through February 24.
For registration details, teachers can email dmbalarobertson@dallasisd.org.
Founded in 1976 by Ann Williams, under the direction of Melissa M. Young, Dallas Black Dance Theatre's mission is to create and produce contemporary modern dance at the highest level of artistic excellence through performances and educational programs that bridge cultures and reach diverse communities.
As the largest and oldest professional dance company in Dallas, DBDT is the fourth-largest Black dance company in the nation, the ninth-largest contemporary modern dance company, and ranked 40th among the nation's leading ballet companies. Located in the thriving downtown Dallas Arts District, DBDT has performed worldwide for over 4.5 million arts patrons and 2.7 million students in 32 states and 16 countries on five continents.
Since the pandemic began in 2020, DBDT performances have also been viewed virtually in 34 countries. The Company has been recognized by the National Endowment for the Arts as an American Masterpiece Touring Artist (2008) and received the Texas Medal of the Arts Award for Arts Education (2017). To learn more, visit www.dbdt.com.