By: Ivy N. Carter, MBA
The stars aligned Friday night with community leaders, entertainment and media icons, and the Who's Who in Black America to prominently display their support for the 2010 Trumpet Awards Supporters and Honorees Dinner at the Hyatt Regency Atlanta. Atlanta is already known for the finest of the finest when it comes to Black celebrities but the Friday night dinner focused on something more than popularity…it focused on the commitment African American businesspersons, law professional, educators and the other unsung heroes who work hard to shape their communities.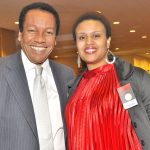 The atmosphere of the lavishly decorated banquet room was of achievement, distinguish and humbleness because the Trumpet Awards founder, Xernona Clayton, thinks and cares enough of community commitments that she celebrates their passion and love for what do with the world and the City of Atlanta.  Outside the banquet hall were the shoes of previous years International Civil Rights Walk of Fame inductees such as radio personality and philantrophist Tom Joyner, Congressman John Lewis, activist and comedian Dick Gregory and many more.  Atlanta's rich history in the 1960s Civil Rights Movement and the late great Dr. Martin Luther King, Jr., who Mrs. Clayton once worked for offered the perfect backdrop for the Trumpet Awards Sponsors and Honorees dinner.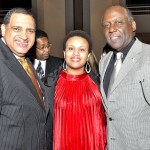 Attendants included Trumpet Awards tribute singer, R&B artist K'Jon, legendary 1970s actor Richard Roundtree, Broadway actress and Tony award winner, Melba Moore, TV One Jonathan Rogers, gospel great Bobby Jones and many more local and national iconic community leaders. K'Jon, whose hit song, The Ocean, stated, "This is my first time attending the awards and tomorrow is sure to be a surprise performance and will hopefully go down in history." He has plans to return to the recording studio for his second album later this year.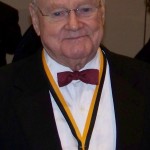 Eugene Patterson, former editor of the Atlanta Constitution, was one of the International Civil Rights Walk of Fame inductees and friend of Dr. King. "I observed Martin Luther King and watched his nonviolent movement here in Atlanta and I am honored to have my footprints included in this occasion."
Melba Moore was fashionably dressed and through her excitement hoped "Xernona Clayton knows my spirit and that she sees the Christian I am." Moore sang at the Prayer Service at Ebenezer Baptist Church in Atlanta Friday morning. Her new CD 'Gift of Love' with Phil Perry has been released and the tour is scheduled for April 2010.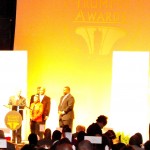 The City of Atlanta commission board is working to commission a street for Clayton, Xernona Clayton Street, stating "there is a long overdue need for such a street because Mrs. Clayton is a woman who cares about what the unsung African Americans do to uplift their communities."
All photos were taken by J. Robert Motivations Photography of Atlanta, GA.