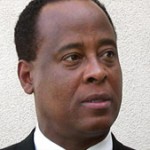 On Thursday, Feb. 5 Dr. Conrad Murray refused to turn himself in and be handcuffed by the Los Angeles police but will still be formally charge for the manslaughter of Michael Jackson. Murray is being charged with the murder of legendary musical icon, Michael Jackson. Murray was to turn himself on Friday, Feb. 6 to face sentencing for prescribing Jackson a deadly drug combination of propofol and lorazepam. Murray insists he did nothing outside of Jackson's normal sleep aid and pain relief drug administration.
Murray was in the home and found Jackson lying across his bed unresponsive. After waiting several moments, Murray finally contacted the Los Angeles authorities and reported that he had found a man not responding. Murray never identified the pop icon nor did he attempt to revive Jackson. Speculations quickly arose that Murray administered Jackson the deadly cocktail because Jackson was late on payments, thus causing Murray to be late on his financial obligations, including past due child support.
Jackson was scheduled to begin his European tour last summer, selling out almost all of the venues.
Murray has been seen visiting Jackson mausoleum earlier this week.