On April 21, hundreds of teen girls and women will thread their needles for "Little Dresses for Africa," a youth-led initiative designed to sew 500 dresses for orphan girls in sub-Saharan Africa. Girls enrolled in the Sugar & Spice Mentoring Program in Frisco will join millions of other young people around the world who are creating community change as part of Global Youth Service Day, the world's largest and longest-running service event.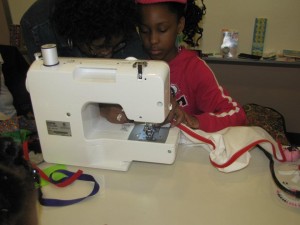 On the campus of Collin College, seasoned seamstresses and volunteers who have never sewn will unite to create a little joy for girls living on a continent hard-hit by the AIDS epidemic. The movement that began with girls enrolled in the mentoring program sponsored by Frisco-based nonprofit, Sisterbration, has grown to include women and girls from across the Dallas-Fort Worth Metroplex. To date, at least 250 dresses have been sewn by about 50 volunteers including Carroll High School student, Jessica Gregg, and friends from Girl Scout Troop #4027 in Southlake.
Now its in 24th year, Global Youth Service Day (April 20-22, 2012) is celebrated in more than 100 countries, and recognizes the positive impact that young people have on their communities 365 days a year. Organized by YSA (Youth Service America), a leader in the international youth service movement, Global Youth Service Day offers youth, ages 5 to 25, the resources and support to plan meaningful projects that improve their communities.
"Congratulations and thanks to the young people of Frisco, Texas for their work to improve their community," said Steven A. Culbertson, YSA president and CEO. "On Global Youth Service Day, the world stands in awe as we see what's possible when kids take the lead as problem-solvers."
"Who can pass up an opportunity to make a little dress for a needy girl in Africa?" says Sisterbration founder, Dr. Kimberly S. Clay. "The dresses are simple to make and require very little sewing skill. We've made most from pillowcases while others were sewn from remnants of donated fabric. The dresses are bright and colorful…some with trim, rick-rack, lace and ruffles. Every little dress is made with a whole lot of love."
Sandy Dick of Lucas, Texas shared the news about the project with her 97-year-old mother, Millie Hagemann, who sewed 20 dresses for the group's first sewing event held on Martin Luther King, Jr. Day of Service in January. "People everywhere have donated cash, fabric, sewing supplies, bias tape, ribbon and elastic, and the sewing project has taken on a life of its own," Clay says.
Clay recalls the sewing event in January when volunteers came together to sew. "We started the day with 100 dresses already sewn by Lisa Allen of My Actions Count," she says. "By the end of the day, we had 153 dresses completed." The dresses will be delivered to orphanages in Africa by Dr. Clay who plans to make a mission trip to the continent with her husband Mark A. Clay, MD, a pediatric cardiologist at Children's Medical Center in Dallas.