By Terri Schlichenmeyer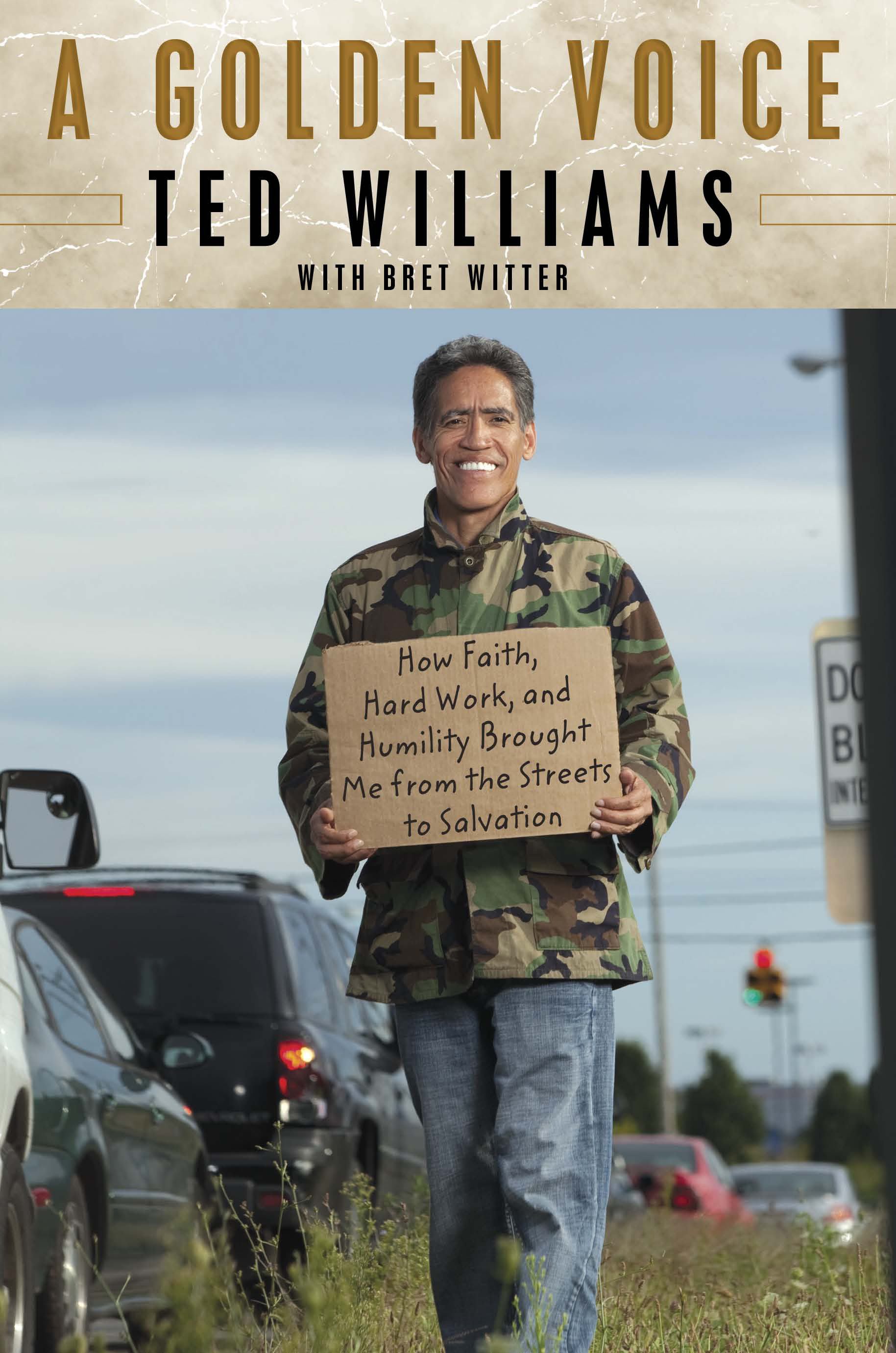 Some people can sing like angels.
They can lift their voices in such a way that makes you absolutely sure you're hearing heaven. With words, they can make you cry or dance.
Some people can run faster than sound. Others can wiggle their noses or ears. Some have a way with babies or dogs, know how to turn sugar into cupcakes, or can do magic with numbers.
One way or another, everybody has a talent that other people recognize. But, as you'll see in A Golden Voice, author Ted Williams (with Bret Witter) almost squandered his on the streets.
By his own account, Ted Williams had a happy childhood filled with visits to Coney Island, subway rides, and lots of toys. Though his Bedford-Stuyvesant neighbors were mostly poor, his parents weren't: Julia and Al Williams, long-married and childless when they adopted Ted, were well-off and Ted, a people-loving "giver" was happy to share his good fortune with friends.
Williams was indulged, and when he became obsessed with radio at age 12, his mother treated him to a tape recorder for Christmas. It was a life-changer.
Williams remembers how he carried that tape recorder around, inventing commercials and pretending to be like his radio-announcer heroes. Coincidentally, puberty hit around this time and, to his delight, he received a gift of a golden voice.
The voice took him to a tiny radio station in South Carolina. It took him to Columbus, Ohio, where he worked his way up to the top: Columbus' number-one disc jockey, in demand from advertisers, concert-goers, and record-promoters.
But Williams, ever the people-pleasing performer, loved a good time. Getting alcohol was easy at concerts, as was cocaine. It was a tiny step from cocaine to crack.
Within weeks, Williams lost his job. He often didn't return home, so he lost his family. He lost three different families, in fact, as well as several homes, possessions, sometimes his freedom, and his dignity. Getting "rock" was all he wanted. He didn't care about anything but smoke.
But then, as he hit bottom once again, he began to remember something that he'd learned nearly twenty years before, a bit of a Psalm that became a lifeline:
"Acknowledge Him…."
A Golden Voice is a bit of a conundrum.
Self-professed people-pleaser and author Ted Williams certainly pleased me with this memoir (with Bret Witter). There's a little bit of braggadocio in this book, enough wry humor to bring a smile, and plenty of humility – all of which fits the person we get to know and matches the man we saw online in the video last year.  I liked that riches-to-rags-to-spiritual-riches tale.
What does not fit are the chapters by Williams' girlfriend, Kathy. While they're a horrifying accompaniment to illustrate the depths to which Williams descended, her personal story is not his story.
Still, those chapters don't distract from a memoir that is both worshipful and worrisome at the same time, so if you're looking for a book to enjoy, this is the one. For you, A Golden Voice will uplift yours.
A Golden Voice by Ted Williams, with Bret Witter (Gotham Books, $26, 256 pages)