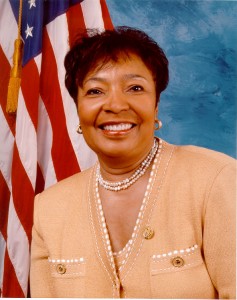 By Congresswoman Eddie Bernice Johnson
 It is egregiously shameful that in this country of economic and agricultural abundance nearly 50 million citizens and their children go to bed hungry, not having eaten properly during the day nor secured the necessary food nutrients that will keep them well and prevent premature death.
In North Texas more than 750,000 people live in circumstances where there is not enough food to feed themselves or their families.  Eighteen percent of our state's citizens live below the poverty line. That number includes one of every four children. Nearly ninety percent of the children who attend Dallas public schools are eligible for the free or reduced lunch programs.
The problem has been long-standing. While a member of the Texas legislature I introduced legislation that mandated feeding children from low income families.  Hunger and a lack of nutrition have been seminal issues in my life as an elected official.
In the fall of this year, a number of non-profit organizations that fight hunger in Texas will participate in the Dallas Hunger Summit that I will host in an effort to address and bring about a resolution to the issue of hunger. I am working with these groups closely for the success of this event.
Vitally important organizations such as the Texas Hunger Initiative, the North Texas Food Bank, Good Indeed, Feed3, the Dallas Baptist Association, the Episcopal Diocese of Dallas and Get Healthy Dallas are willing and selfless partners in this crucial effort.
The hunger summit will be a collaboration between government, businesses and nonprofit entities to consider ways in which we can reduce the suffering caused by hunger in Texas and throughout our nation.
Hunger is an economic issue as well. Employees who have not eaten sufficiently are not able to perform well at their places of employment. Hungry children do not do well academically in school.  Studies have proven that well-fed children have higher test scores than those who are confronted with not having sufficient food to eat. There is even a relationship between aberrant behavior and inadequate food.
The coming together of these various organizations is a necessary step in our battle against hunger. Collectively we will be able to do so much more to confront the problem which presents itself as a moral dilemma for our state and our nation.