The lone star state sizzles when it comes to finding homes for adoptable dogs and cats in 2013, according to new research by nonprofit PetSmart Charities.
As the leader in pet adoptions, PetSmart Charities analyzed all adoptions that occurred January 1-June 23 through its partnerships with more than 2,000 shelters and rescue agencies. Adoptions took place at PetSmart Charities Adoption Centers and during national and community adoption events in all 1,278 PetSmart® stores.
Here is PetSmart Charities' list of the top ten states for pet adoptions:
1. Texas (20,983)
2. California (18,593)
3. Florida (13,437)
4. Arizona (12,081)
5. Georgia (8,806)
6. North Carolina (8,260)
7. Virginia (7,886)
8. Ohio (6,915)
9. Indiana (6,551)
10. Pennsylvania (6,495)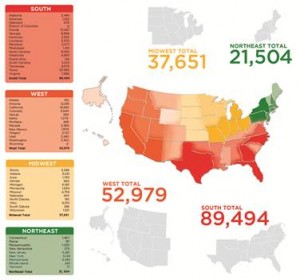 Millions of healthy adoptable pets are euthanized each year simply because of pet overpopulation. But, people who choose to adopt join a nationwide effort to solve this problem once and for all. You don't have to be a hero to adopt– just someone who is ready to love and support a pet.
If you want to see where your state ranks on pet adoptions this year, visit PetSmart Charities' blog.
For those looking to add a furry friend to their home (and help boost the adoption numbers of their respective state), PetSmart Charities' next National Adoption Weekend event is coming up Sept. 13-15 in all PetSmart stores.
Visit www.petsmartcharities.org/adoption for more details.