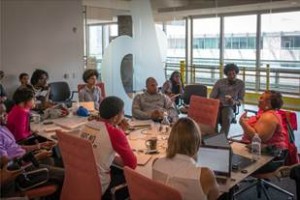 Microsoft and The Marcus Graham Project, a national network of diverse professionals whose mission is provide mentoring and professional development resources to multicultural men and women across the media industry came together at the MGP headquarters in Dallas for the MGP/ICR8 Summer 2013 Boot Camp Agency. The MGP/ICR8 Summer 2013 Boot Camp Agency is one of MGP's summer programs which offers diverse aspirants a chance to obtain on-the-job experience by converting them into a pop-up advertising/marketing agency named Y5 and assigning them various clients for whom they implement a life-real project or campaign.
In this case, Y5 was tasked to strategize, design and pitch a Windows 8 or Windows 8 Phone app for LISNR, an app that provides exclusive music content to users that is currently only available through IOS and Android operating systems.
On Aug. 1 at the MGP offices, Microsoft gave Y5 an in-depth look at all the Windows 8 capabilities both in the desktop/ tablet environment and in the mobile space and followed with a full brainstorm and working session in which together, they boarded ideas and began to outline the Windows 8 app pitch Y5 would bring to LISNR, the prospect client. The Microsoft team will continue to provide counsel for Y5 until the agency pitches LISNR and if sold through to the company, Microsoft will help secure funding and developer resources to bring the Windows 8 LISNR App to fruition and into the marketplace in the fall.