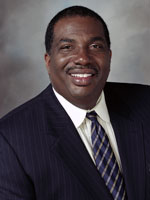 DALLAS — State Senator Royce West (D-Dallas) received the 2013 Children's Champion Award for his work to prevent and reduce the risk of child abuse in Texas. The award was presented by Texas Association for the Protection of Children (TexProtects), during their annual fundraiser held at the Bush Library and Museum, located on the campus of Southern Methodist University (SMU), on Tuesday, October 15.
TexProtects advocates for improvements and reforms of the Child Protective Services (CPS) system and to increase public awareness regarding the issues of abuse and neglect of children statewide. Their efforts have proven effective and have resulted in many significant changes in Texas law since the group was formed in 2004.
Senator West expressed his gratitude for being recognized, but said the real heroes are groups like TexProtects.
"The tireless legwork and advocacy of TexProtects is a critical part of the legislative process. They and others like them are the experts. TexProtects provides not only the information, but also apply the sense of urgency needed to make things happen in Austin," said Senator West. "Their efforts stand out in a place where it can be easy to get lost among the numerous demands for state resources. I consider what they do to help prevent and bring greater attention to child abuse to be at the top of the list of what I can do as a member of a lawmaking body."
In each of the past three legislative sessions, Senator West has worked with TexProtects to pass legislation to reduce the incidence of child abuse. His efforts have resulted in the adoption of a child sexual abuse policy by all Texas public and charter school districts, day care and placement centers. Under these laws, all professional personnel receive training to recognize signs of abuse. SB939, authored by Senator West during this year's legislative session, expanded those provisions to include higher education institutions.
As a member of the Senate Finance Committee, Sen. West also supported TexProtects' efforts to increase statewide funding for Child Advocacy Centers, and programs that provide home visits and nurses to investigate possible incidences of abuse and neglect. He also supported increased pay for CPS workers. TexProtects was created from the Dallas-based Child Abuse Prevention Advocacy Commission formed in 2000 to spur reform efforts at Dallas County Child Protective Services.