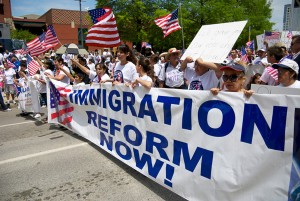 DALLAS – Saturday morning Texas Organizing Project (TOP) members and Garland residents will meet to explore solutions to our current, broken immigration system and develop strategies to urge GOP members of Congress to pass immigration reform in 2014.
"We'll talk about not only why we desperately need reform, but what led us to this current humanitarian crisis we're in," said TOP Garland leader and immigrant mother Margarita Alvarez. "On a daily basis, immigrants face a number of issues affecting their families, ranging from underperforming schools to inadequate health care to dangerous work conditions. Everything is connected and deserves addressing."
The workshop will drive attendees to engage their neighbors, family, and friends to join efforts to call on North Texas GOP Congressman Pete Sessions to pass immigration reform, an issue that affects a substantial amount of families in his district.
The event will begain at 11 a.m., Saturday, June 14 at AXE United Methodist Church (1799 W. Kingsley Rd, Garland, TX 75041).